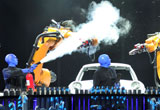 Having made their debut on the Las Vegas Strip in 2000, the Blue Man Group recently opened an all-new production at the Monte Carlo Resort & Casino – dropping in by parachute to set a lively agenda.
'Our creative team has been working for two years to propel Blue Man Group's indescribable celebration of art, technology and music to a whole new level for the Monte Carlo production,' says Blue Man Group co-founder Chris Wink.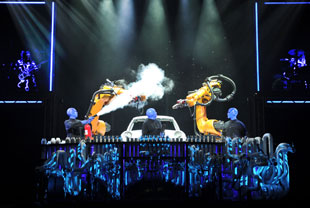 The show has been co–created by the Blue Man Group (BMG) and renowned 3D designer Michael Curry, and features some famailar and unorthodox instrumentation – a six-piece band is joined by the Percussipede (a musical centipede comprosed of percussion instruments), Smoke Drums and a Neuronulum.
To accommodate the group's ambitious production, one of the casino's interior theatres was gutted, and the BMG audio team installed a new system. Sound supervisor Marcus Ross headed the project and programmed the system, which included a d&b audiotechnik J-Series PA, Meyer Cinema Speaker Surround monitors and a DiGiCo SD7 at the show's audio helm provided by production gear provider Solotech. A DiGiCo SD8 was subsequently added to handle additional audio production elements from behind the curtain.
'Even though we gutted the theatre, there were a lot of things we had to take into consideration in how we set up the system and how things worked,' Ross explains.. 'We were kind of predisposed to do certain things based on how prior productions were structured – how we ran cable, where certain racks went, the flow of the system, and so on. Because there was an install here prior, there was quite a bit of stuff that was useful to us. So I came through and took out the things we didn't need, and starting getting it prepped for the new system. The gear arrived in boxes and in 12 days we were operational – from pallets in the air to hit-the-ground running.'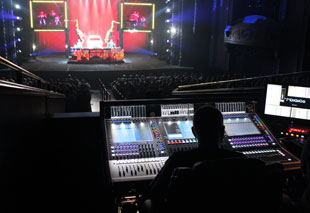 At FOH, the show uses 141 channels on the DiGiCo desks, split across the band on a mix of gear from traditional guitar, bass, drum set and two percussion rigs to Chapman Stick and zither, as well as BMG's PVC instrumental creations, programmed tracks and video playback.
'One of our biggest challenges was maintaining a consistent sound with so many different entities in it,' Ross explains. 'We have six band members, three Blue Men nightly, and that changes per show. While it is a scripted show, every person can and does add nuances to it. Plus, they've added some really cool, interesting instruments to the Blue Man in addition to the massive PVC – a huge rolling wagon of PVC tubing with specific lengths for different pitches that is the main instrument and that the three guys play. That alone has 15 microphones to amplify.
Wireless world
'A lot of the new instruments are wireless, which is a new challenge for Blue Man,' he continues. 'For example, the Drum Bone is an instrument they've had for a long time, but the new version on this show is wireless. Now we have at least 20 RF channels we have to use for the different instruments. I used Professional Wireless Systems' Intermodulation Analysis Software, which was key in an easy set-up of the RF in an already RF heavy area. We also used information from other shows to find out what bandwidth ranges other shows were using so we could choose the best bandwidth range for our show.'
Ross reports that the SD7's layout, flexibility and dynamic range is a good fit for a show with such a range of sounds and instrumentation: 'I really like the structure of the DiGiCo,' he says. 'There's a lot of digital stuff on the market but the architecture is locked with only a certainly amount of outs, for example. I think the thing that DiGiCo consoles have over all the manufacturers is how flexible they are, with great ergonomics, which make them easy to get around on. Plus, they sound great and have great dynamics, too.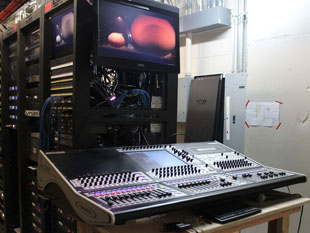 'Although this is not a huge cue-based show – there are only 50 – there are a lot of things going on in each cue. The things that we require the console to do are pretty cool and extensive and we use the internal dynamics extensively within the console cueing. With a show that has such a huge dynamic range of instrumentation and orchestration it was very important to have a console that the dynamics had the features and sonic quality we required. Another great feature is the ease at which we can not only set the global scope but also recall scope of each cue and control what we want when we want.
'All of that is key; especially considering what we've required the console to do has changed and after a couple of weeks of previews, we added the SD8. Prior to that, we were going to use an Aviom system for the monitoring for the band. But we found that we weren't able to get enough separation for what the band required and what FOH required. Basically, the producers asked me for a couple of different scenarios, one of which included reprogramming the SD7 to run monitor inputs. But as soon as the producers approved the expense, it was off and running and adding the SD8 made the most sense all the way around. Now, the console carries all the in-ear mixes and all of the band mixes. The Opto Send and Rcv function allows us to add ports in the audio I/O section of the software that can show up as send and receive on the Optocore network and may be used to send info to and from the SD7 and the SD8 [used by longtime BMG engineer Jeff Slater], which is great. I rebuilt a new session and for a few days we actually ran dual sessions; we would soundcheck in the afternoon and then switch over to the show session. When we finally made the switchover, it was seamless.'
Matt Fox is head of the BMG audio department and an FOH engineer for the show, and has spent a lot of time working with DiGiCo desks: 'The continuation of DiGiCo really listening to engineers is evident with the SD7,' he offers. 'For me, going from using D1s and D5s to the SD7, I can really tell that DiGiCo has implemented feedback they've gotten over the years. And it's exciting because you know it's going to only improve over time and get better.
'The backup engine on the SD7 is great. But also, for our purposes the recallability using snapshots is unparalleled. There's a lot of information we're managing – we've got approx 135 inputs, a lot of which is playback stuff, what we call "direction track,", which goes to the in-ears or that have a specific direction for what they're supposed to do at a certain time. I can have my control groups be completely different from snapshot to snapshot and have different things recallable and other things not. Being able to dance in and out of different scenes is fantastic and allows the people backstage, who are plugging and unplugging things on a continual basis, to do this without the fear of them being hot in the PA.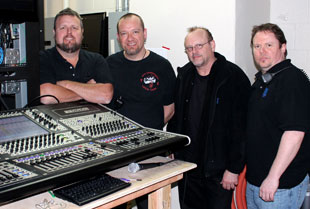 'Having the functionality is great, too, as we have a bunch of different things that pop in and out, like maybe there's a snapshot where only one instrument is being used and isn't needed for rest of the show. Previously I'd have to, from song to song or track to track, use a playback machine, with external Midi-driven buttons that would access outboard gear like a MotU [Mark of the Unicorn sequencer] or something like that. And the ability of the console to fire Midi on a snapshot eliminates all that active fire on my playback cues, which, just being able to implement the Midi snapshots I can't even begin to express how much that saves my life. Having to push the next scene or an output 'go' button on something else – it's one more step that I don't have to take and that's amazing to me.
'Also, the tube drive on the channels and the dynamic EQ are amazing things that save us from having to use outboard gear, which is the goal of the console,' Fox continues, 'I love the functionality of the touchscreen, too. Being able to get what you need right now and not have to waste a lot of time to find it is great, especially with the amount of inputs we have, which is over 100. I can put them wherever I want to but also be able to monitor what's happening on the overview screen if I can't get to it right away.'
With the show now in full production, Fox expects to explore more of the console's possibilities: 'Up to this point, we've not really added any icing to the cake to where we can really dig in and start exploring the functionality. We know its there but we've been too involved in getting the timing of our next scene change more than we are in spicing things up. We wanted to keep everything as flat as we could from the word go – as we go along, we're EQing things, starting to add some gates and comps and putting the finishing touches on. I'm really looking forward to having the whole the cake with icing and cherries on top.'
'We really wanted to have fun, take risks and do something different,' says Chris Wink. 'We're the only show that combines robots and inventive technology with comedy and inspiring theatrics. It's an over–the–top experience, that I don't think you can find anywhere else on the Strip.'