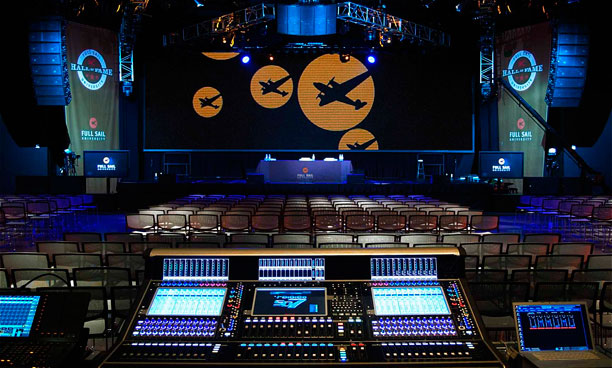 The 30 years since its founding have seen Florida's Full Sail arts design and entertainment media school has grown beyond its highest ambitions. Today, it offers a broad spectrum of accredited degree programmes encompassing music and sound, as well as film, design, show production, games, animation, web design, and music business. Three years in planning and a year-plus in construction, its Full Sail Live is one of the largest, dedicated sound stages for live concert training at an educational facility.
As well as live performance, the facility serves graduations, open house events, multi-visual presentations and guest lectures. It also has a 16-speaker surround movie screenings and can accommodate live concert training sessions.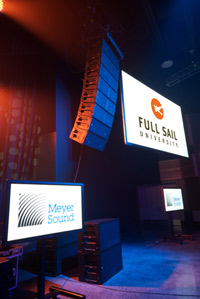 At the heart of the facility's sound reinfocement system is a flexible, 65-cabinet Meyer Sound installation that can be easily reconfigured for concert, spoken word presentations, or cinema and multimedia surround applications.
For Director of Audio Programs Dana Roun – who developed Full Sail's Live Production training curriculum in 1981 – the selection of a Meyer Sound system was driven by a careful balance of technological and educational considerations. 'The audio system had to be second-to-none in performance and versatility,' he says. 'We had to satisfy every imaginable scenario, from full-tilt, high-SPL concerts to precise acoustic music, plus guest speakers, surround visual presentations, and theatre in the round. The Meyer Sound system certainly delivers on that count.
'Educationally, the system had to lend our students a full understanding of audio system design and integration, diverse live applications, and system optimisation,' he continues. 'Certainly the Sim 3 [audio analyser] and Mapp Online Pro [acoustical prediction program] serve as a foundation for audio design and analysis. Beyond that, we needed a solid commitment to educational support, which is something Meyer Sound has clearly demonstrated.'
The system is based around left-right arrays of eight-each Mica line array loudspeakers with low-end support from eight 600-HP subwoofers. Centre- and front-fill systems are, respectively, five JM-1P arrayable and four UPJ-1P VariO loudspeakers. The monitoring complement includes UM-1P, USM-1P, and MJF-212A stage monitors, as well as UPA-1P and UPM-1P loudspeakers.
The surround set-up features 15 HMS-10 cinema surround loudspeakers and two UPQ-1P loudspeakers as rear-corner systems. The main and surround systems are driven by a Galileo loudspeaker management system with, respectively, dual and single Galileo 616 processors.
'The Galileos are key to controlling the large and distributed system,' says Dave Arias, Production Manager for Show Production. 'We can control the main PA from FOH while monitoring everything with RMS.'
Audio recording
An audio recording facility is linked by fibre to the hall for audio and video interfacing. Here, DiGiCo SD7 and SD8 consoles serve at FOH and monitor duties respectively, and make up out a total of 50 live production audio consoles currently used on campus. 'The console purchases were based on many elements,' says Dana Roun. 'We took into consideration technology and reliable service, industry acceptance, cost and value, as well as relationship and trust. As an educational facility – and this venue being the largest of six live production facilities on the campus – we have a responsibility to provide our Show Production students the full range of live concert industry tools, including lighting, video and audio. We knew we wanted a flagship console, and we knew its usage would need to cover a very wide range of functionality. The hitch, however, was that in planning our budget for the building four years in advance, the console purchase line item was merely a placeholder; I didn't want to lock into our console until the last minute to ensure we were getting the most current technology available.'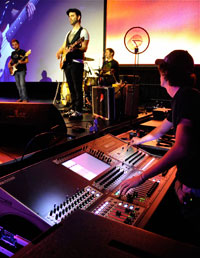 'We owned a D5 for many years,' he adds. 'So we were familiar with the quality of the DiGiCo consoles and the responsiveness of the technical support staff. I was introduced to the SD7 at a tradeshow years ago and considered it a bit out of our price range at the time. I had been waiting to see how the SD7 console would be received, and last year we had grads on the U2 tour that advised us to get a good look at an SD7, which renewed my interest. Other graduates – and we have many out there on tours and operating in the shops of top rental and production companies – reported having used SD7's on their tours with great success, and SD8 consoles were seen on corporate and regional shows. Their insight into what consoles are actually moving out on current tours and corporate work is invaluable to us.'
'While discussing the signal flow of the new building, I realised that the Madi I/O ports on the consoles would allow us to eliminate the bulky analogue snake I/O that we would typically use to interface our video playback sources from the mezzanine production spaces,' says Dave Arias. 'In the past we have sub-mixed the decks and only sent a stereo pair out to the FOH and Monitor positions. We can now easily send discrete channels everywhere, easily.'
The revamped SD8 Overdrive software update was among the staff's favorite features on the monitor console, bringing onboard many of the features found on the SD7 including FX, dynamic and graphic EQs and multi-band compression. 'The Overdrive option greatly improves an already feature-rich console,' says Dave Dean, the school's long-time Department Chair for Live Production. 'The effects, increased bussing and frequency dependant dynamics are a very useful upgrade.'
'We have been training live production technicians for almost 30 years, and one of the keys to success in this business – besides work ethic and attitude – is the ability to understand the basics and learn to use the tools,' says Roun.'The purchase of both the SD8 and SD7 consoles will properly prepare students for success by offering them two comparable yet distinctly different consoles that lend themselves to different applications and production challenges. As long as the team at DiGiCo continues their relentless commitment to the live production industry they will always have a place here with our students.'
Since opening in early summer, the Full Sail Live venue has hosted a variety of concerts and events, including the school's Hall of Fame Awards, a concert by the alt-electro-rock band Mutemath and surround-sound workshops by engineers from TV's Lost series.