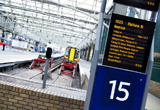 Recent investment in the UK's railway infrastructure has seen a new PA system installed in Glasgow Central, Scotland's busiest railway station.
Part of the renovation of a transport hub that handles around 34m people every year, a Tanny Qflex system aims to solve the station's long-standing problem with intelligibility due to the nature of the structure and its architecture, with reflective floors, sandstone walls and a glass roof creating problematic reverberation.
The extensive project found Network Rail and main contractor Babcock call in UK-based sound and communications company TG Baker, building on a strong working relationship developed on previous rail network projects. After careful consideration and design testing, TG Baker's selected QFlex, Tannoy's digital beam steering loudspeaker range.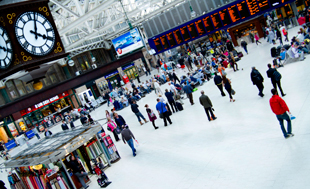 'Glasgow Central is a famous Victorian structure that is protected by The National Trust for Scotland, which in itself presented a whole set of architectural limitations,' says Brian Andrew, who heads up the Railway Division for TG Baker. 'As well as that, the station had a problem with intelligibility of announcements, as the reverberation time was in the region of 6s. Using conventional speakers would have meant a low direct-to-reverberant ratio, adversely impacting on intelligibility. With such a harsh acoustic environment and protected architecture, acoustic treatment of the space would have proven to be prohibitively expensive, so in the end the whole project required a cutting-edge technology solution, and digital beam steering was the perfect answer. In most cases digital beam steering technology is the only effective way of achieving the required levels of speech intelligibility in large reverberant spaces.'
Network Rail and Babcock were looking at a number of loudspeaker technology options, when TG Baker put forward proposals using Tannoy's QFlex.
QFlex is the only digitally steered system providing full-range steering. At higher frequencies, in order to achieve effective steering and avoid aliasing you need densely spaced transducers; Qflex is able to steer highly focused beams of acoustic energy to beyond 12kHz. Even SPL coverage is maintained across the entire listening plane due to its ability to create an asymmetrical pattern thanks to its patented steering algorithm.
'Apart from a significant cost saving to the customer, another good reason for using QFlex over some of the alternative steerable options on the market is that most other products have a fixed mounting height. But in Glasgow Central, the National Trust for Scotland dictated the height of the speakers, where they were to be positioned, and also the colours of them,' Andrew explains. 'Tannoy was able to offer combinations of different custom colours in order to blend with the surroundings and mimic what was there before, and the adaptability of QFlex meant they could be mounted where required, without compromising on coverage.'
This adaptability comes from QFlex's ability to steer coherent beams up to ±70°, allowing the devices to be located much higher up in a space, above the 'listening plane', than would normally be possible.
Tannoy has also developed a number of additional features and options specifically aimed at the PA/VA and mass notification markets. In addition, QFlex benefits from redundant input capabilities (both analogue and digital), the capability to monitor pilot tone, and has also been weatherised, making itwell suited to large-scale transport hub applications such as Glasgow Central.
The installation includes 29 QFlex 48s, eight QFlex 32s and ten QFlex 16s, all in custom colours to match the existing architecture. Comprehensive system overview and diagnostics is provided courtesy of six Sentinel SM1 system monitors, which sit on the VNet network and ensure system-wide integrity and provide alerts in the event of any fault condition, eliminating the need for a PC to be constantly connected to the network. This is essential to the system's compliance as a mass-notification and emergency paging system, providing reporting solution that meets and exceeds all worldwide legislative and safety standards.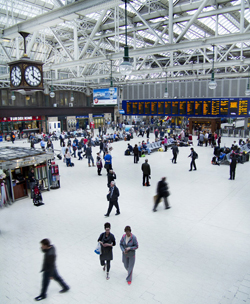 'The biggest benefit to the end-user is that people can actually hear what is being said,' Andrew reports. 'As soon as we switched it on, everyone involved remarked on the notable difference in terms of intelligibility. Also, another aspect is that the announcements are now automatic; mirroring what is on the information screens in the station. That is all done by a PC that we have networked into the system. Network Rail can override it in case of emergency, and QFlex is able to step up and cope with all of the eventualities.
'As with any project of this scale, there were a lot of challenges to be faced and overcome,' Andrew concludes. 'It has been an accelerated process to get it to where it is now. We worked with Tannoy and really pushed the boundaries of the VNet network, and throughout the project we have had hands on support from Tannoy engineers and staff in order to make the project such a resounding success.'
'The new system at Glasgow Central underline's Tannoy's agility as a manufacturer and supplier,' says Graham Hendry, Head of Tannoy's Applications Engineering & Training (AET) group As a company, we had to work closely alongside TG Baker to make sure that QFlex was able to do all that was asked of it, and in some cases adding some job specific features along the way. We also had to deliver a product that was fully capable of integrating with the existing infrastructure with ease, not to mention stand up to the environmental challenges of a busy rail terminal.'
More: www.tannoypro.com