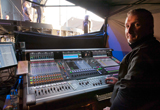 It's been nearly 40 years since Greetings From Asbury Park, NJ introduced Bruce Springsteen to the record-buying public (and laid the groundwork for Manfred Mann's 'Blinded by the Light' chart success.
And while not initially a commercial success, the album marked the start of one of rock's most distinguished careers – as evidenced by his current round of three-hour-plus shows, sold-out arenas and glowing reviews.
Although missing late saxophonist Clarence Clemons and keyboardist Danny Federici, Springsteen and E Street Band are presently reviving their glory days and supporting a 17th studio album release with their Wrecking Ball tour. With a massive world tour under their belts, they are now on a two-month US stadium tour and have called on Solotech US Corp for production.
Monitor masters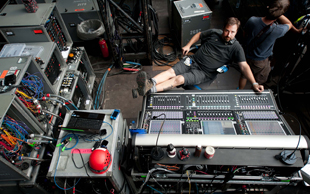 The critical monitor mixes for the 18-piece band are shared by engineers Monty Carlo and Troy Milner, who are both using DiGiCo SD7 digital consoles loaded with Waves' SoundGrid bundle. At stage left is Carlo, who has been with Springsteen since 1992, handling a combination of wedges and in-ears for The Boss, guitarists Steven Van Zandt and Patti Scialfa, keyboardist Roy Bittan, background vocalists and a five-piece horn section. Milner, onboard since 2001, is at stage right taking care of drummer Max Weinberg, guitarist Nils Lofgren, bassist Garry Talent, keyboardist Charlie Giordano and multi-instrumentalist Soozie Tyrell.
The engineers chose the SD7 for its flexibility and ability to grow with the size of the production, including the massive amounts of I/O that it supports. Onboard features from snapshots to multiband compressors and the Waves pro plug-in bundle also provide welcome additional functionality.
'From 2002-2009 we used Yamaha PM1Ds for monitors,' Carlo explains. 'Since then, our band has grown from nine musicians to 18 on this tour, with the occasional guest on top of that. We needed something that could handle a large number of inputs [in excess of 100] and a massive amount of outputs – about 56 on each side of the stage. The SD7 was the only console I found that could accomplish what I was going to ask of it.
'Before this tour, I'd never actually mixed on a DiGiCo of any variety. I spent some time in the past year building the console with the Offline Editor and getting familiar with its layout and feature set. In November 2011, I got together with Troy in Nashville and we spent a couple of days with [US distributor Group One's] Matt Larson getting hands-on training with the desk. Following that, we spent the first three months of 2012 in rehearsals and doing some small promo events [Grammys, Jimmy Fallon and the SXSW Festival]. With the addition of a horn section and percussionist, a lot of songs ended up with slightly different arrangements and we spent a fair amount if time working through the new album since not many of the band members had worked on it in its entirety.'
'We needed consoles that could handle a lot of inputs and outputs and be flexible,' Milner offers. 'Before rehearsals began, we still didn't have a concrete plan for what was going to be needed as far as band members and layouts. Things were constantly changing even into the first run of shows. I used the SD7 last year with Garth Brooks – and a D5 on numerous tours with Michael W Smith, Mercy Me and Amy Grant – and it performed perfectly.'
With approximately 96 inputs coming from the stage, plus effects and talkback, Carlo is managing about 112 inputs from stage left. Being able to mix mono and stereo sources on the same fader bank is proving an asset: 'I love not losing two faders to a stereo input or output as used to happen on the PM1D,' he says. 'The way you can customise the surface is so flexible and easy to change that, as your input list and band grows, you aren't stuck simply adding channels at the end of the console. Being able to rebuild the desk to suits your workflow in mid-tour is a great luxury. Plus, the multiband compressors on each channel are a great tool that I've been using more than I thought I would.'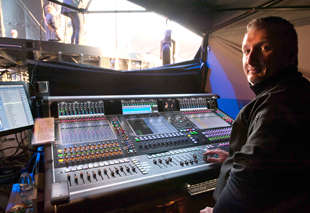 He has also identifies his preferred Waves plug-ins: 'On my in-ear mixes I use the C-6 compressor with Kramer PIE compressor across the mixes,' he reveals. 'I'm using the H-EQ as an insert on Bruce's vocal channel to allow me to get a few additional bands of EQ that I can use for tight notches on troublesome frequencies. For effects I'm using H-Delay, TrueVerb and Renaissance Verb. I'm also using GTR Stomp and Amp plug-ins on Bruce's guitar lines in case of a problem with his amps or cabinets on stage.'
At stage right, Milner manages 140 inputs, including effects for drums and guitars, as well as wedges and in-ear systems. These include Shure PSM1000s for in-ears and Audio Analysts SLP115 and SLP212 wedges, plus a couple of double Audio Analysts 18-inch subs for drums.
'I double assign the drum inputs so I can tailor them for the drummer independently of everyone else,' he explains. 'One of the biggest challenges on this tour is just the large amount of inputs and outputs we have to deal with on stage. We have settled in now but we still have plenty of options to easily add, change or move things around without reinventing the wheel. We also have a great talkback system for all the techs and backline guys that are in our ears at all times, so we can be attending to issues before anyone else is aware of what is happening.'
Milner has also found a wealth of onboard features and functionality helpful in his day-to-day workflow: 'Being able to assign the rotary knobs on each bank to a specific function is very handy,' he says. 'I'm using one row for compressor thresholds and on my drum input bank I use one row at my gate threshold. [Drummer] Max Weinberg is a very dynamic player and I'm constantly adjusting those gates for each song and throughout each song to keep things under control for him. Also, having the ability to move any fader to any place on the desk is so great. After mixing a few shows, I learned that just moving a few inputs to other banks and reordering my outputs could vastly improve my current layout. Such a great feature! I'm also finding all kinds of new things to use the Macro Keys for now. One is that between songs when the stage is dark, it can be a little hard to see the band onstage, so I have macro key that dims all the lights and monitors down so its easier to see what they might need. Also, using a Macro Key to switch the extra video monitor inputs. I'm getting a full production feed as well as other feeds and I can just use a macro to select the one I need for any given song.
'For most of my reverbs I'm using the Renaissance Reverb and it sounds great in every application – from drums to background vocals to horns. I'm also using the SuperTap for some delay/slap effects on the drums and horns. The Waves C6 is one of my go-to plug-ins for just about anything, and I'm using it on the snare and toms to shape the sound in the ears and also on some vocals. The CLA-76 Bluey is another favorite, and the list goes on and on. It's great to be able to easily try out all these plug-ins on inputs and or outputs to see what works for each application.'
Set list gymnastics

One of the biggest challenges is receiving the set list five minutes prior to the start of the show. Not only does it change from night to night, but also during the show. The snapshot feature has become invaluable for both engineers.
'With the PM1D, I had a sheet with all my scenes that I would have to jump around during the show,' Carlo recalls. 'With the SD7's snapshot panel, I can order the list as Bruce intends to do the show, but when he decides to jump to something off the list, it's as easy to get to as typing the first letter of the song to get to the desired snapshot. Right now, I'm at around 130 snapshots.'
'We never know what Bruce will do next or what song he will pull out, so being able to load those snapshots quickly is a challenge,' Milner adds. 'I use the keyboard and just type the first letter of the song and it will jump through all those snapshots starting with that letter. Then I can fire the snapshot with the space bar very quickly. This is usually not a problem on other tours, but with over 150 snapshots it can take time to go through them all. I have an external monitor hooked on the B Engine so with everything mirrored to the A Engine I can make sure I'm running in complete redundancy at all times.'
For both engineers, the SD7 has proved to be a reliable and accommodating asset for this complex and unpredictable production.
'I can configure it to look and operate exactly the way I need it to depending on what type of show/band I'm going to be mixing on it,' Carlo says. 'It sounds great, it's warm and full without any brittle or sterile characteristics that digital consoles sometimes have. Looking ahead, and depending on the show, I might be inclined to try something a bit smaller than the SD7, however, the redundancy inherent in the SD7 with its dual engines and power supplies is a solid feature.'
Milner agrees: 'Absolutely, I'll be using DiGiCo again. It sounds great and is so flexible to use, especially with a large number of inputs and outputs. And with all the different SD console options out now, it makes finding the right desk for each application simple. On this tour, the band seem to be really happy – and with 18 people on stage and all those open mics things can get messy really fast. We seem to have found a good balance for each band member and what works for them on any given song. The SD7 is very neutral-sounding – it doesn't seem to colour the sound at all, which is nice. You can start with the source and if that sounds good, then you know things will sound great with the console. I don't know of any other desk out there right now that can do what we are asking of these consoles. With 140 inputs, 52 outputs and around 150 snapshots – and that number is always growing – we are making these desks earn their keep.'
Wireless world
With a total of 68 channels of wireless microphones and in-ear monitoring systems in use and nearly 100 inputs, Carlo and Milner knew they had wireless issues ahead. 'Early in the tour, in San Jose, I had to work hard to find space for all my RF, and we had an interference issue on Bruce's vocal channel,' recalls Carlo. 'I knew we'd be hitting several venues where it would be even more difficult to get clean RF, so I spoke with our tour director that night, and proposed we make a change to Shure Axient.'
Solotech quickly had a purchase order in place for 20 channels of Axient, making arrangements for the equipment to meet the tour in Barcelona. 'Fortunately, we had two shows there, which gave me enough time to familiarise myself with the system and make the transition,' Carlo continues. 'I spent the first morning firing up Axient, getting it all labelled and ready to go. I walked the stadium floor with Bruce's mic a few times and looked over the RF scans to see how it held up. Then I went back and matched gains and such, so the transition would be smooth.'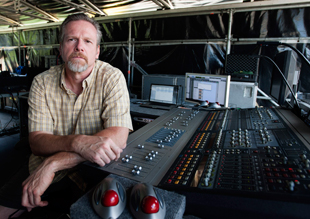 The Axient system uses frequency diversity technology to ensure that critical RF channels are essentially immune from interference. When used with its ShowLink access points, the system gives the engineer full remote control of all transmitter functions. The system is designed to handle frequency scanning and coordination, and can detect and avoid interference by changing to a spare channel on the fly. Taking full advantage of Axient's technology package, Solotech ordered two ShowLink access points, three Ethernet switches, and three antenna combiners along with the 20 core Axient channels on the Wrecking Ball tour. A separate rack houses the battery recharging station.
All eight of the show's vocals run through Axient handheld SM58 transmitters, with bodypack systems for eight Beta 98H/C horn mics, three internally miked accordions, and a fiddle.
'For Bruce's vocal, I'm using the Frequency Diversity option, which allows me to broadcast on two different frequencies for seamless switching in case of RF interference on one of the channels,' Carlo says. 'I'm also taking advantage of the system's ability to have two packs linked with a receiver, which is great for the horn players who switch instruments mid-show. With the ShowLink system, if I need to make a change mid-show, the second bodypack will automatically switch to the new frequency when it's turned on. That's pretty cool.'
For the first night in Barcelona, Carlo opted to stay with his Shure UHF-R systems, planning to fine-tune the tour's new Axient systems the next day: 'Of course, the first show was fantastic, and Bruce decided there was no reason to do a soundcheck the next day,' he says. 'So I swapped out the wireless racks, let Bruce know that I'd changed his vocal wireless to the latest hot-lick system, and that was that. I was a little nervous at the beginning of the show, but everything went smoothly.'
While Springsteen chooses to rely on proprietary Solotech floor wedges, in-ear monitors are still a significant presence on stage. 'I'm using the PSM 1000 system for Max Weinberg, Garry Talent, several additional band members, plus guest artists and various tech crew members,' says Milner. 'It really has made my job much easier, and the band is very happy.'
Shure's PSM 1000 uses diversity reception to combat dropouts, along with several other key features. 'CueMode lets me walk the floor and check all my frequencies from a single bodypack, which is a huge time saver for me,' he reports. 'The rechargeable battery system has also been great. Bruce's shows typically run over three and a half hours, but I'm getting about 8-10 hours per charge, so I don't have to worry about battery life anymore.'
Milner is also impressed with the sound quality of the PSM 1000: 'This is my first run with this system and I have to say, I'm blown away,' he says. 'They sound great, and noise floor is so low, I almost don't know I'm wearing a pack. This is the only in-ear unit I will be using from here on out on my other tours.'
On show days, Carlo scans the local RF environment with the Axient Spectrum Manager and Shure's Wireless Workbench 6 software: 'The Spectrum Manager is a fantastic tool that I have come to find indispensable,' he says. 'Not only does it find and deploy frequencies for the Axient system, but it shows me the local landscape, so I can tell the backline guys what areas to stay away from. I use WWB6 to find my primary and back-up frequencies in the morning, then during the show to keep an eye on battery life and change RF transmitter power as needed,' he says. 'Bruce likes to leave the stage a lot, and I change from 10mW to 50mW when he does. And obviously, he's known for doing long shows and there's never a costume change, so the accuracy of the remote battery meters can also be really important.'
Another advantage of switching to Axient was its wide tuning range, enabling the tour to use the same systems in Europe and North America. 'When I switched to Axient, the RF world kind of opened up for me,' says Carlo. 'We use the entire UHF range, 470MHz to 698MHz, but I used to keep all my mics in the old J5 range, 578MHz to 638MHz, with the rest for guitars, in-ears and so on. Because the receivers can operate over the entire 470-698MHz range, it gives me much better options for situations where the RF environment is really crowded.'
Having used the Axient system throughout a summer in Europe and continuing on the tour's return to North America, Carlo has had time to evaluate its behavior under fire: 'Bruce is as active as ever on stage. He runs around a lot, pours water all over himself to cool off, sometimes drops the mic, and occasionally get rained upon while running across the stadium floor,' he says. 'Axient has dealt with it without a hiccup. Axient is at the top of my list of gear that makes the job easier. It's been great.'
Out at FOH, engineer John Cooper experiences the sound from an audience perspective: 'Being a front-of-house guy, my criterion for an RF mic is that it remains faithful to its original wired counterpart,' he says. 'The Shure Axient system is exactly that. It's a great sense of relief to hear that true, natural sound of their voice being captured – like you are sitting beside the artist, listening to them sing. Axient is a great example of how Shure continues to develop better products that make a real difference in the quality I strive for in my live mixes. It's just a fantastic system.'
More: www.digico.org
More: www.waves.com
More: www.shure.co.uk
More: www.g1limited.com