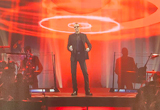 Symphonica: The Orchestra Tour is a showcase for many of George Michael's hits, plus a carefully chosen selection of covers that have been re-worked for orchestral accompaniment.
As a technical production, Symphonica: The Orchestra Tour would be daunting for even the most experienced of engineers, so both crew and equipment have been carefully chosen.
Andy 'Baggy' Robinson, George's monitor engineer and head of sound for the tour, describes it as 'tunes you know and covers you don't, all re-arranged'. 'It's the first time George has toured with an orchestra,' he adds. 'Everything came together very quickly and it sounds amazing.'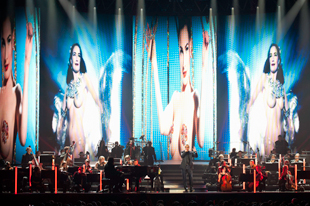 The venues – including historic venues such as the State Opera House in Prague, Arena di Verona in Italy, London's Royal Albert Hall and Royal Opera House, and arenas such as Rotterdam's Ahoy and Manchester's MEN – all provide intimacy that the show demands.
DiGiCo consoles remain an integral part of the audio production – a D5 Live having been used on 25 Live, the most commercially successful tour of 2006–2007 in Europe – but this time four of the manufacturer's flagship SD7 digital mixing consoles forming what is currently the biggest SD7 rig on a single (Optocore) optical loop on any touring production.
Three of the SD7s sit in monitor world – one operated by Robinson specifically for George, with the remaining two for Simon Hall, who performs monitor duties for the band and orchestra; the final SD7 is for Gary Bradshaw, who takes up the front-of-house position.
'In some of the opera house gigs that we're doing, the orchestra [which would normally be on stage] goes into the pit,' Robinson says. 'So we remote the orchestra stage rack and the amps that do their headphone mixes in the pit and extend the Optocore loop, picking up local power and only run fibre to the pit. This means that the orchestra can actually be up to 150m from the stage with a single run of fibre.'
This is a big production in every way, but in audio terms it has pushed even the capacity of the SD7 to its limits: 'We can't quite get all the necessary inputs onto one desk,' Robinson explains. 'But the only thing missing for me and Gary are the first violins, second violins, violas and cellos, which we both take as a submix from Simon, otherwise every required input is taken separately.'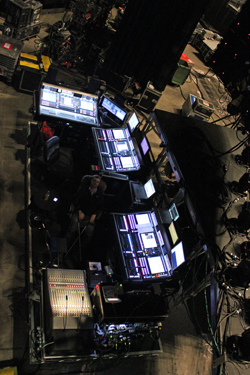 'I've got a lot of mixes going on,' adds Hall. 'For the majority of the tour, our own symphony orchestra travels with us. This is made up of around 11 musicians from the UK with the rest from the Czech National Symphony Orchestra. However, due to logistics and special guest appearances, we change out orchestras at various points, while keeping the UK 11 for consistency. To account for this, the orchestra receives mixes per section: we give a mix to the lead, plus a mix per section.
'The band and backing vocalists all have their own mixes. As Baggy mentioned, I also do all the submixes for the strings to go to him and Gary, plus sub mixes between my two SD7s, because the band sub mixes to the orchestra desk and vice versa. We couldn't fit everything on one console because when you start adding the outputs, although you have 256 channels that you can use, we've got so many mixes that none of the desks can fit it all on in one go. That's why I have two...'
In fact, Hall handles 60-plus mixes, which include conductors, pick up mixes, the band and submixes, plus all the technicians: 'I have 35 on the orchestra desk and 30 or so on the band desk, which is a lot to go wrong,' he says. 'I have my two SD7s set up in an L-shape with an additional screen sitting between the two for the orchestra desk so that I can easily pick up if one of the violin mics, or an orchestra mic, starts failing, so that we can instantly stop the bangs that you get from the phantom power.'
At front-of-house, meanwhile, Bradshaw professes to have a reasonably straightforward set up in comparison to his colleagues. 'I've found the SD7 a real step up from the D5,' he says. 'It's a similar operating system, so I find it very easy to get around, it has a good sound and the information you get on the display is great. I use snapshots for everything. The FX are Midi controlled so there are faders, mutes, compressors… Two of the channels have got guitars on, which have got main and alt, I use snapshots for them just to make the layout easier.'
A direct signal from the show is also recorded each night direct from Gary's SD7, so that elements can be used for George's new album which is being produced by Phil Ramone, who has also had a big input into the overall sound of the show.
The move from DiGiCo's DSP technology-based D Range consoles to the SD Range, which uses Stealth Digital Processing, has resulted in immediately noticeable improvements for the team, particularly in audio quality: 'The SD7 has more functionality than previous consoles. It has additions such as dynamic compression and dynamic EQ. The desk surface, although it's not much bigger than that of the D5, feels bigger and there's more capacity. We can also share racks more easily: we can have four desks on one Optocore loop and we can all be allocated output cards; we all want the inputs, but the band and orchestra desks need the outputs and that means we can share racks.'
Black arts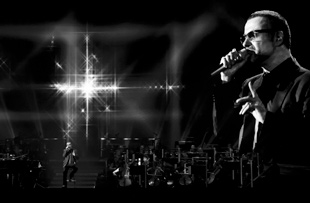 Connected to the main SD7 desk, four JoeCo BBR-Madi recorders formed part of the regular front-of-house set-up throughout the tour. Using these, Bradshaw recorded the shows onto sets of four 1Tb Glyph hard drives, each set having the capacity to hold material from eight shows. In addition to their nightly recording function, and the additional capture of soundchecks, the BlackBoxes were used in Virtual Soundcheck mode for system set-ups, replaying material from previous shows to help balance and EQ the PA system at each venue.
'The BlackBoxes had no problem in recording all 256 channels over the length of the show,' says Bradshaw. 'During the rehearsal period, we would record an entire session of three or more hours, with all 256 channels in record without any problems. I don't know of any other system that is capable of doing that.
'The Symphonica tour has been unusual in that the majority of shows were in large indoor arenas, but in among these were one or two much smaller opera houses. The acoustics of these two types of venue are completely different, so for the show at the Royal Opera House in London for example, I used recordings from the Prague Opera House to help EQ the PA system.'
At the Royal Opera House, four further BBR64-Madi units were connected to an additional DiGiCo console generating broadcast mixes for this particular show. As well as running an extra 256-channel record, the BlackBox Recorders also acted as a playback engine for making adjustments to the broadcast mix.
'We chose the BlackBox Recorder because it focuses on recording as its primary function, rather than other systems I have used that are software packages that try and do it all' says Robinson. 'The BBR64-Madi is a box that takes a Madi signal, you press record and you have your content captured. You can be recording a show from scratch within 20 minutes and most of that time has been spent plugging in the cables.'
The BlackBox BBR64-MADI Recorders were supplied by Wigwam Acoustics and JoeCo Limited.
On mic
As head of sound, Robinson not only performs his usual duties but is responsibe for the audio aspects of the production. His choice of tools, while designed to make life as easy as possible, also has to provide the requisite quality of sound. His primary choice of microphone and RF equipment is Sennheiser.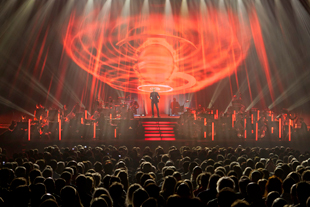 George uses a Sennheiser SKM 5200 microphone with a Neumann KK 105 capsule, straight off the shelf, and EM 3732-II dual receivers. The backing singers all use the SKM 5200 but with MD 5235 capsule, specifically chosen because the singers sit in among the band and the 5235 has less spill.
'On the 25 Live tour, we used the KK 104 capsule for George but we moved to the 105 here because again, we get less spill,' Robinson recalls. 'This is vitally important as some of the live shows are going to be captured for his new album. I actually haven't noticed too much difference between the 104 and the 105, but then I don't get much noise from the stage – George holds the mic close to his mouth and I simply ride the dynamic for him. However, Gary Bradshaw loves it at FOH.'
Alongside Robinson in monitor world, Simon Hall mans a second position for the band and orchestra, which comprise 10 and 35 members respectively. The system uses a considerable amount of wireless equipment, with Robinson carrying two mains and a spare for George for both mic and in-ear monitors. Backing vocals are entirely wireless, whilst the band changes to wireless systems when they appear at front of stage at the end of the show. All wireless in-ear monitoring is via Sennheiser's 2000 Series.
Although Hall has around 100 mixes, he says he has the easier of the two monitor duties. 'We have a whole shout and talk system, so the band musicians can all talk to me, but Baggy has a lot more pressure,' he says. 'Sennheiser equipment would always be my preferred choice and the support from Mark Saunders and the Sennheiser UK team is fabulous. Since 25 Live they have provided us with a lot of equipment and it's always been very good.'
This considerable amount of radio equipment brings to the fore the issue of RF management, for which George Hogan, or 'The Prof' as his colleagues call him, has been retained.
Alongside local restrictions on power output, the challenges that George faces at every new venue include fitting round what is an extremely noisy environment, created by the use of LED screen and moving lights. This an issue that these days is commonplace, but increases in proportion to the amount of equipment used, which here is considerable.
'I fit our RF equipment into the gaps left by the screens,' Hogan explains. 'This means I can't use any sort of standard presets, so I just look at the environment at every venue and build a plan that fits the gaps, using a piece of software that I wrote some years back.
'Once I've done that, I input the information into the Sennheiser software package and that sets all the radio equipment up. Then all you have to do is point each individual mic at the unit, press a button and it transfers information across. On average, it takes me about five hours to build everything and tune it.'
In addition to 'fitting into the gaps', George also has to account for the implications of the Digital Dividend. 'It's a pain, because everything is closer together in practical terms,' he says. 'The manufacturers are keeping up, but for big shows it does make things more difficult.
'It used to be possible to put a load of equipment one end of a venue, a load of equipment another end and effectively you could ignore them merging with each other. But now all of the equipment is capable of "breaking" its neighbours, because it's all packed much tighter together. On a small stage that's quite a big problem. For example, in a theatre you may have twice as much radio and only about a third of the physical area. In larger venues, it's fine because we can use various bits of spectrum that are reasonably well isolated from each other. This is done mechanically by putting antennas some distance away from each other, so it requires a bit of three-dimensional thinking.
'The best thing – and this is my honest opinion – is that Sennheiser equipment always works. When I use the SKM 5200 with a 105 and a 5235 capsule, I don't get any stress. As a piece of RF engineering, it doesn't suffer from things like stopping working if you hold the aerial, where as some other brands do. And it syncs with everything at the push of a button.
'The in ears are great, too. The newer ones run on slightly higher power, so as a factory item you don't have to do much to them or use special amplifiers. Here, everyone is using them straight out of the box.'
'It's one thing to be given an endorsement from a company such as Sennheiser, they could have dumped a bundle of mics and in ears in our lap and we would, of course, have been most grateful,' says Tour Director, Ken Watts. 'But, it's quite another to find a major audio provider who wants to take part in the dedicated process of doing everything possible to deliver the ultimate quality in multiple performing environments for an artist known for his dedication to sound quality production. Sennheiser have worked with us continuously since 2006, every tour we raise the bar and every tour they readily respond. More part of the team than just a supplier, my thanks to Mark and all at Sennheiser.'
More: www.digico.org
More: www.joeco.co.uk
More: www.sennheiser.co.uk
More: www.optocore.com