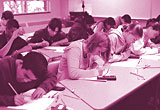 'When I was a bass player, I thought I was going to be the best bass player in the world. Then I heard Jaco Pastorius and thought I might give up… Then I discovered that I was a better sound engineer than bass player – and that I was probably the best bass-playing sound engineer around.
'It was about understanding my skills and realising that they made me unique.'
Wise words from Jim Parsons. And Jim is well placed to dispense wisdom, having gained a wealth of experience in sound engineering and live production. To further underline his authority, he is presently a Course Leader at dBs Music in Plymouth, UK.
He is keen to reassess the role and requirements of formal education, as live production is facing some big changes and challenges (a subject already visited by Audio Boy in his post, Physician First Heal Thyself). And his proposals for improvement are likely to have worldwide implications.
Studying physics and engineering to degree level put Jim on a course toward the nuclear industry, but 'political and ethical' concerns demanded a rethink. Dividing his time between casual work and a fledgling musical career in Oxford, he hit a turning point when his band Tiger Lily won their way through to the final of a rock competition.
'We were fairly terrible on the night, but we were runners-up to Deaf School [whose Clive Langer went on to produce Madness, Morrissey, David Bowie, Dexy's Midnight Runners and Bush]. They got a record contract; we got a little mixing desk. But that meant we had better equipment than other local bands and so I began helping them out. When the band broke up, I ended up with a little PA, and when I was made redundant, I started a proper PA company with the redundancy money.'
Then punk came along. And with it, venues that hadn't put on bands began staging gigs. Parsons seized the moment and was instantly in demand, providing not only a sound system but giving structure to chaotic evenings charged with the spirit of revolt.
'It was a really exciting time,' he recalls with obvious relish. 'I bought more gear and got more professional. I did bands like The Specials and other 2 Tone bands – suddenly I was doing bands that were on Top of the Pops.'
Being married to Belle Stars drummer Judy Parsons added further to his duties: 'I became the band's principal sound engineer and technical advisor. I travelled the world with them and I was also working with Blancmange, a synthpop duo who were quite big at the time.' And there's more…
'Because I was in Oxford when the Shoegazing thing started, I picked up on that, which led to working with Supergrass and on to Radiohead. I also was still doing freelance sound engineering for bands like Teenage Fanclub and was stage manager at the Nice Grande Parade de Jazz Festival, where I also provided the sound system for one of the three stages. There I worked with a whole different genre of artist – from Miles Davis and Wynton Marsalis to BB King.
'By the time it got to the Radiohead OK Computer tour, we were doing arenas and big, open-air shows. I wasn't out of my depth, but the politics could get very difficult. At that time I also started to feel that I had done it, and the opportunity came to sell up and get out – so that's what I did.'
Making history
Moving back to the West Country where he grew up, Parsons became a freelance again 'without so much responsibility'. Life took on a calmer pace – for a while. 'That was when I came across Simon Honywill… head of sound at Glastonbury, FOH for Kathrine Jenkins, José Carreras...'
A magazine article prompted Parsons to suggest a meet. They did, and arrived in matching Audis.
'He told me he had hooked up with some people in audio education and had put together a live sound element – would I be interested in joining him? I told him I'd never done any educational stuff but he said "of course you have – dealing with all the people you do is a form of education…". I wasn't sure how I would get on with it, but the rest is history.'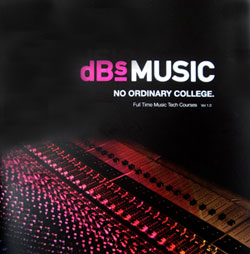 After a promising start, Honywill was soon back behind mixing desks on various major tours – leaving Parsons heading a live sound course for dBs Music. Then changes in legislation forced him back to university to gain a postgraduate certificate in education. 'I regard that as a good thing because you can be the best industry expert but if you aren't aware of the legislative and communication sides of it, you're not going to teach effectively. I learnt some invaluable things.'
The dBs Music course was refined and extended, and now includes a further education stage that feeds into three higher education courses covering music technology, studio recording and live sound. 'These can offer a basis for further academic study but if students want to get a job, they should be reasonably employable,' Parsons argues. 'For instance, if something isn't working at the live theatre we don't call one of the school technicians, we get a student to sort it out.'
The long-standing argument facing almost all audio courses is that they exploit ambitions and dreams with no real prospect of real-world work to follow. Jim?
'We hope to show them the reality of it all,' Parsons counters. 'If they have this glamorous idea that they're going to be mixing Bon Jovi at Wembley the week after they leave here, there are two things we can tell them:
'There's only one person engineering Bon Jovi and there are another eight people on the immediate sound crew, so they are statistically more likely to be doing one of the other jobs. We can show them that those other jobs exist and what they entail. We can also tell them how it really is – "I was at Wembley, and it was possibly the worst day of my life…".
To underline the real-world considerations of a career in live sound, dBs Music recently invited veteran sound man Robbie McGrath to talk to students about his own experiences with the likes of Queen and U2, as already reported on Fast-and-Wide.
With an estimated ten per cent growth in the turnover of live production, there is certainly a requirement for trained technical live sound people. Can colleges meet this need?
'Right now, the higher end live sound companies are bursting to find high-quality apprentice-style people,' Parsons agrees. 'They have an ageing population of experts and they need quality intake at the bottom end to take over when the time comes.
'If you can employ one of two people, where one has gone through some form of structured education and the other hasn't, but all other attributes are the same, What are you going to do? If we've got it right, the educated person will be more capable, more flexible… There will be less work for you to do.'
(Deep Thinking – Jim Parsons on the dBs Music approach to education)
You, who are on the road…
To take education forward, Parsons is looking to industry acceptance of qualifications. The alternative to improving the system is to go outside it – as readily identified by seasoned studio designer and acoustician Philip Newell, author of a number of reference textbooks and who is deeply suspicious of the 'education' offered by the internet. 'Anyone can put up anything,' he points out. 'That doesn't make it right, but people are ready to believe it without question. It's the blind leading the blind.'
'There is a role for the National Skills Academy, Plasa and maybe a new body,' Parsons begins. 'If you work in electrical engineering, the nuclear industry or photography, you work towards becoming a member of a professional body – that's your professional accreditation. There needs to be a body for live sound that administers a standard. We are lacking that structure, because different colleges have different ways of delivering a live sound qualification. It needs to be a broad church but there should be a body overseeing standards.'
And, if brought about in the UK, he sees this as a great opportunity for the country to take an international lead. 'We are one of the main players in live sound. I've talked to people in other colleges, industry bodies and now manufacturers, and I can see a lighbulb going on. And once the model is established, it should be pretty straightforward to roll out around the world.
Put to Plasa CEO Matthew Griffiths, the overture meets with broad approval: 'Plasa is fully supportive of any initiative that can bring a consensus view from the professional audio industry, and is very happy to play whatever role is required,' he says. 'The key is that the industry has not only to want to go down this route, but also to engage in the consultation process. Plasa has a specific interest in vocational qualifications but there is a definite benefit in a wider conversation for this sector of the industry.'
'I'd like to see that happen in the next couple of years,' Parsons enthuses, 'before the end of my educational career!'
You, who are on the road. Must have a code. That you can live by.