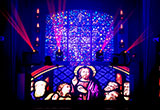 Turning a 125-year-old Fort Lauderdale church into a modern restaurant and nightclub provided hospitality and venue operator David Cardaci a further opportunity to demonstrate his tenacity and vision.
More than two-and-a-half years in the making during a global pandemic, The Angeles nightclub and Holly Blue restaurant recently opened their doors to a capacity audience and high praise from club and restaurant goers, and critics alike.
A high-end, high-profile statement for Cardaci and his team, this is also a flagship installation for Void Acoustics, having have provided the audio systems throughout the three spaces in the venue – the restaurant Holly Blue; the VIP Marvin's Room (described as 'dark, sexy and rich' by Cardaci); and the main nightclub space, The Angeles.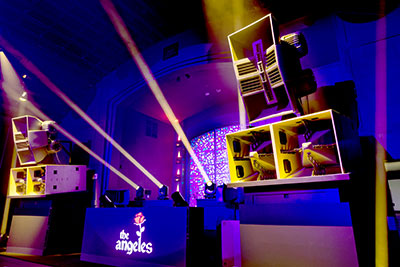 Cardaci's past achievements include Florida venues Rhythm & Vine, The Wilder and Roxanne's Liquor Bar & Kitchen, and when the opportunity came along to take a long-term lease on the abandoned First Evangelical Lutheran Church in Flagler Village, the prospect was too tempting to turn down. While he was required to maintain the exterior of the building as it was, he had carte blanche for the interior. And armed with this blank canvas, he set about delivering a high-end install featuring the very best audio, lighting, and A/V available.
'Fort Lauderdale's first ever high-energy nightclub needed a high-energy high-end audio system,' Cardaci says. 'We took over the venue in early 2019 since then we have brought our vision to life, designing and installing a high-spec venue to do justice to the space it occupies. The pandemic hasn't really impacted us – what has taken so long has been the attention to detail for the venue to deliver the high-quality finish you see in the venue today.'
And with his in-house design team at Knallhart Management Group, Cardaci has been able to control the crafting of his vision to carefully restore the building. The 650-700 capacity Angeles nightclub is the centrepiece of the three venues, occupying two floors with a dancefloor and the VIP mezzanine named The Confessional. It is here that club-goers encounter Void Acoustics' flagship Incubus system.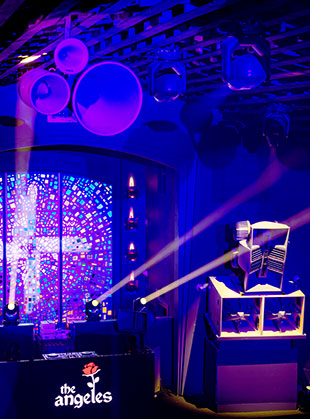 The Incubus system is specifically intended for large design-led clubs like The Angeles. 'We had to have this system,' Cardaci explains. 'In all honesty, I am a bit of an audio-geek, and in many ways because I knew the Incubus was what I wanted, we had to design the club around the audio system.
'If I am honest, back when I first discovered Void products, it was the aesthetics that first appealed,' he continues. 'And when I first heard the system demoed, I was concerned that it wasn't going to replicate anything other than dance music. But having now done several installations working with Void Acoustics systems, I realise it not only looks amazing but functions incredibly well for any type of music genre – live music, hip-hop, EDM, festival house music, all kinds of music.'
The Incubus Subs use hybrid horns covering the 20Hz to 65Hz range and accompanied by Hyperfold Subs for the punchy fast bass octaves and Air Arrays covering mid-bass, mid-range and high-frequency, all were custom painted in Graphite Grey for The Angeles. Additional fill is supplied by Stasys 118, Venu 115 V2 and Venu 215 V2 subwoofers, as well as carefully positioned Air Motion loudspeakers. The overall system is driven by Bias Q5 amplifiers and Bias Q2 amplifier. As is possible with Void Acoustics products, all components were all custom coloured along with the Incubus to complement the venue design and colour palette. DJs also experience the audio quality of the Void system, as monitoring is handled by two Air Vantages paired with barewood Venu 215 subwoofers.
Creating this unique venue brought its challenges, however, the main being sound leakage. 'We were particularly aware of this, as the building is in the middle of a dense residential area of Fort Lauderdale,' Cardaci notes. 'But we consulted with the local community throughout and we've not heard a peep from them since the venue opened in December 2021.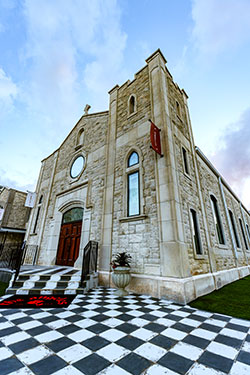 'The insulation of the building to avoid noise leakage was one of the biggest investments we made when converting the building. We did a huge amount of work on the ceiling, as well as applying multiple layers to the walls and on the windows, which alone have been renovated with two layers of hurricane impact glass. Unsurprisingly with a 100-plus-year-old structure, every time we peeled back a wall or another part of the roof, another challenge revealed itself. The end result is a structure that keeps sound confined to specific areas of the venue and prevents any noise leakage, either inter-venue, or from inside to outside.'
The Holly Blue restaurant offers stylish dining and cocktail areas for 200 covers, and includes an outdoor veranda space. The Void installation is minimalist but effective – using weather protected IP-55 rated Cyclone 8 and Cyclone Bass meant the audio design could be replicated on the outside veranda as well as inside, providing seamless sound and design throughout. Supported by Indigo 6S, Indigo 6 Pro and Indigo Subs alongside Cirrus 6.1 ceiling speakers, Holly Blue's audio system is driven by a Bias Q1 energy-saving and low carbon footprint amplifier.
Marvin's Room is a small, 450sq-ft room off the main restaurant, which has the feel of a boutique cocktail lounge for up to 35 guests. Clad with wood ceilings and walls, and with a handmade parquet floor, it suits intimate VIP parties, and is served by a Void system using sculpted Indigo 6 Pro speakers – a higher power version of the Indigo 6S – complemented by Indigo Subs and operating with the Bias Q1 amplifier.
'I have to say that the Void team are a pleasure to work with, and the product itself is absolutely incredible,' Cardaci says. 'Our club-goers at The Angeles have not only told us they can hear the difference; they can 'feel' the difference. It is loud, of that there is no doubt. But it is built correctly for clarity – in short it surpasses everything I have ever worked with in the past.'
More: www.voidacoustics.com