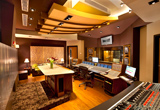 Described by the New York Times as 'a vision out of New York's glorious musical past', Jungle City Studios is the latest in a scarce trail of recording facilities that suggest a return to older ways of working – where acoustics, microphones, monitors and ambience are back on the agenda, and the craft of recording is recovering its former status.
The doors to Jungle City are open, and big-name artists are coming through...
Like London, NYC has lost many of its great studios. Among them, Hit Factory, the Record Plant and Sony Music Studios have all become casualties of technology that makes it possible to turn a small domestic room into a studio capable of producing a successful record. And with dramatically lower overheads than old-school facilties.
With more than ten years' experience as Alicia Keys' engineer/album coordinator/studio director, and work with artists ranging from Mariah Carey to Usher, Jungle City founder/engineer Ann Mincieli turned to the Walters-Storyk Design Group (WSDG) to design a 'Retro Future/Future Retro era studio'.
New benchmark
'The vision I had for Jungle City Studios was to create a retro futuristic creative sanctuary for artists, producers and engineers who felt that NYC lost a lot of its recording scene in recent years,' Mincieli says. 'Everyone who knows me knows I have a lot of passion for the industry and the right gear.'
Mincieli admits that Jungle City is partly modelled on Alicia Keys' private studio on Long Island. Between them, she and WSDG have created a US$6m-plus complex that 'recalibrates the benchmark for destination studio design'.
With 14-ft ceilings, American cherry absorbing diffusers, acoustic ceiling treatments that hide low-frequency absorption and programmable LED mood lighting, the 1,400-sq-ft control/live room and glass iso booth Studio A houses an SSL Duality SE 48-input analogue console with DAW control. In addition, there is a rare EMI TGI12345 Mk.III (c.1968) desk that is identical to that used to record the early Beatles hits at Abbey Road. This has been completely rebuilt, and serves as 'the ultimate outboard processor'.
'I grew up on SSL desks and all the variations of them, so I am very familiar with the sound and functionality,' Mincieli says of the SSL desk. 'The Duality sounds like SSL and it's a dual-function desk that has every bell and whistle found on any older SSL console. I love the depth of the EQ, and I love that SSL took the best of each legacy console and incorporated it into Duality.
'Every producer and artist I work with has a different way of working and a different flow. Because of Duality's DAW control capabilities, it gives me the ability to work in and out of the box if I choose, to adjust and be versatile for the artists' needs,' she continues. 'A lot of mixers like to sit in the centre section and use the DAW features like the transport, calling up some plug-in parameters and being able to go to cue points. 'Depending on what I am doing, I mostly work direct in Pro Tools. I use the console for the sound of it. I use it for my Pro Tools returns, mixing and patching.'
Another essential aspect of Jungle City's appeal is its wealth of outboard equipment.
'Because of the amount of outboard gear I have, I love to be able to patch up the right units for the particular sound I am looking for and be able to really use the headroom on Duality,' Mincieli explains. 'The ability to have three stereo buses and three different mixes is really cool, especially when I am patching different gear on those stereo buses. When I track vocals or guitars or drums, I use a lot of my other mic preamps to get the sounds I need – I have everything from V76s, to Neve 1073s, Porticos, APIs and Chandler. I look at engineering as a work of art, and all these mic preamps are used depending on the sound an artist or producer is going for. It starts with the artist and the vision of the song and album. I won't be quoted as saying I only use one thing, it's not who I am about artistically as an engineer but SSL is one of the incredible tools in my toolbox.'
Immediately below Studio A, on the 10th floor, there are Icon and Euphonix audio production suites, each with iso booths and private lounges. Extensive north and south-facing windows provide each suite with the rare opportunity to work in natural daylight and panoramic views of Manhattan from its High Line district.
City skyline
'Ann and her sister Rose Spallina – a leading real estate specialist, and studio partner – scoured the city for the ultimate location for her studio,' says WSDG's John Storyk.
'To maximise the impact of the studios' picture windows, we floated the custom Augspurger Dual 15 Vertical main speakers in an outsized glass speaker baffle. This is only the second time we have done this, creating a kind of transparent "wall of sound" between the live and control rooms.
'This provides artists and engineers with the creative advantage of full visual connectivity plus, NYC's ultimate eye candy – views ranging from The Empire State Building to the Hudson River. The audio sound field is extremely accurate throughout the full frequency range, particularly at the critical low end, necessary for many of Mincieli's demanding urban music clients.'
'The challenge of creating a signature 11th floor live studio/control room directly above the two 10th floor production suites in a newly constructed lightweight, concrete building presented complex isolation challenges,' Storyk explains. 'Extensive analysis, both for the loading capacities of the slab and the isolation boundary detailing; resulted in Sound Transmission Class (STC) values in excess of 90. Spring and rubber isolation elements from Europe were used in this project.
'Jungle City is one of the first major projects in our office to take advantage of the REVIT 3D modelling program,' says project manager, Joshua Morris. 'REVIT enabled us to analyse the relationships between the 10th and 11th floors. The program helped us to capitalise on adjacencies, particularly in terms of critical isolation.
'It also facilitated the elimination of an existing interior staircase, which then enabled us to capture a critical 120-sq-ft space that we transformed into a second 10th floor lounge to permit both suites to operate autonomously.'
To business…
'Equipment has become smaller, cheaper, more fungible, more democratic,' Storyk says. 'Anyone can have a recording studio now, and everyone has one. Throw all that into a hat and you get a very different model of what a studio is.'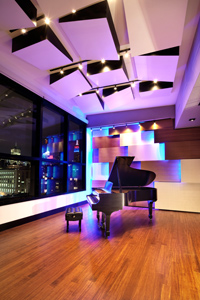 'The past few years have witnessed a huge shift in our city's recording community,' Mincieli agrees. 'Major studios like Sony and The Hit Factory closed their doors. Not because they weren't busy, but to take advantage of windfall real estate profits. Many of the remaining studios have begun to show the wear-and-tear of 20-plus years of constant use.
'Many top engineer/producers now put together high-quality recordings in basements, attics and garages,' she adds. 'They know they can find larger studios for live sessions in the city, and that they can overdub tracks in their own small iso booths. But those studios are simply incapable of reproducing the audio quality or creative vibe of a full-up, fully staffed, high end studio.'
'Studios are not over; not even close,' agrees Troy Germano, son of Hit Factory owner, Ed Germano. Also part of the NYC studio renaissnace, after three years' operation, his upmarket Germano Studios on Lower Broadway reports strong business including visits from Black Eyed Peas, Mariah Carey, Keith Richards and Justin Bieber. 'The days of having seven or eight studios in one city, those days are over. But the smaller, more boutique operation is what people are attracted to.'
Now Jungle City is being described by record execs and studio engineers as one of the most impressive new studios in New York in years. 'There are fewer rooms but I think it's still vitally important to the recording industry to have enough really appealing destinations for artists here in New York,' says Craig Kallman, chairman of Atlantic Records.
'I compare a studio to a hotel, and I want this to be a seven-star studio,' says Mincieli. 'I always dreamed of owning my own studio but I wanted it to be not just the generic thing you see everywhere – the black couches, the gray rugs. I book places in Spain, in Italy, where you walk out the door and the view is incredible. I want to give the recording community a shot in the arm, and know that there's something incredible in New York.'
And bookings are coming in: 'The budgets are there,' Mincieli says. 'They're not as high as they used to be, but they're there.'
Among them are Beyonce, Alicia Keys, Kelly Clarkson, Jennifer Hudson and Bono. There will be more… and there may be more action at the top end of the recording studio market too.
Clearly, there is now a place for a new style of high-end studio – one that has carefully considered location, facilities and services, such as Blade Studios in Lousiana, Green Road Studio in Costa Rica and Roma & Romma Records in Venzuela. Watch this space...
More: http://junglecitystudios.com
More: www.wsdg.com
More: www.solidstatelogic.com