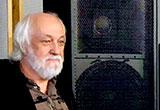 When L-Acoustics introduced the audio world to line array loudspeaker technology, it brought a quantum leap forward in sound quality and fundamentally changed prevailing attitudes to the deployment of loudspeakers – particularly in live sound.
Now, more than 25 years on, another company aspires to repeat the revolution with a re-imagination of the point-source technology that the line array largely displaced. Cue KV2…
The challenge comes from the Czech Republic – not presently a territory associated with pro audio innovation. But that's not to say that this is some kind of anomaly. The former Czechoslovakia was a major European manufacturing force prior to its invasion by Russia in 1968 and the subsequent exploitation that bankrupted its economy. KV2's founders George Krampera and Marcelo Vercelli, meanwhile, had both proved their worth elsewhere in audio before establishing the company in 2002.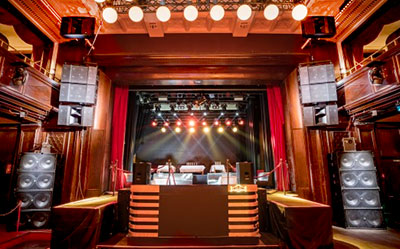 Today, KV2's international prominence is growing rapidly, not least through its involvement in events such as the 2006 Winter Olympics in Turin; the 80th birthday celebration of Queen Elizabeth II at Balmoral Castle in Scotland; the Theater an der Elbe in Hamburg (at €30m, among the most expensive theatre builds in Europe in 2015); closer to home for leading Czech singer Lucie Bílá's Fifty Fifty tour of Brastislava in 2016; the 20th anniversary upgrade of Broadway's The Lion King (undertaken by Steve Kennedy, John Shivers, Hugh Sweeney and David Partridge) in 2017; and the recent theatrical production Apollo 11, marking the 1969 manned moon landing in a purpose-built venue in Pasadena using 40,000sq-ft of 360° video projection and immersive sound designed by Broadway and West End theatre sound designer, Bobby Aitken.
KV2 has also found favour in developing countries where, in addition to the efficiency and practicality of its sound systems, the demands their deployment makes on technical staff are significantly lighter than those of top-flight line array systems. 'From live production through to theatres, nightclubs… every aspect of live reinforcement, we have product in those aspects of the market,' says Director of Sales, Dave Croxton. Not bad for a company based in a former shirt factory in the small Czech town of Milevsko.
KV2 relocated to these premises from Krampera's 'cottage' workshop, where he had previously set up a company called Fusion with Vercelli to develop a large-format loudspeaker system – KV2 owes its name to being the second venture the pair had begun together. The current factory facility evolved from producing thousands of shirts to ship to Russia each day – without receiving any payment in the years before its closure – to a 100,000sq-ft facility that accommodates the company's R&D, manufacturing, assembly, painting, testing and despatch. It also boasts the largest anechoic chamber in Europe that is dedicated to loudspeaker test and measurement, and devotes 60 per cent of its total electricity bill to burn-in and soak testing of its power amplifiers.
Renovation and development of the building continues, with an eye constantly turned to future needs including the use of state-of-the-art technology and equipment.
Point Source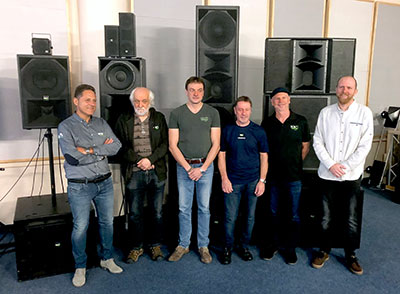 Krampera's story begins as that of a boy with a gift for electronics and a passion for sound. Growing up in the former Czechoslovakia and taking his lead from a technician father, he built his first valve radio when he was ten, and was supplying local bands with his power amplifiers at the age of 14. 'At that time it was difficult to get amplifiers in the Czech Republic – specifically instrument amplifiers,' he recalls. 'Soon I would make everything for the most famous bands at the time, even the mixing boards.'
The 1968 Russian invasion, however, saw him move his family to Canada via Austria, where he began fixing TV sets – but was soon designing musicians' amplifiers again, this time for Yorkville Sound, before setting up his first company, Rexx. 'I could see that there was no future in Czech, so I left,' he says, simply.
He reckons that he worked 73-hour weeks for three years, producing more than 30 products… 'The last part that was missing in the chain was loudspeakers.'
Returning to Europe, he joined Italian company RCF and began his affair with loudspeaker technology. He recalls targeting driver inductance issues as a means of reducing loudspeaker distortion, and was responsible for developing the silicon spider among other distortion-reducing innovations, as a result. 'That was the only way we could get high-power loudspeakers,' he says. 'Then we added a secondary coil to remove the inductance – another coil on the pole piece that is connected out of phase.'
He also designed the RCF ART active loudspeaker line that prompted Mackie's move to acquire RCF: 'When RCF was bought by Mackie, it was obvious that production would go to China, so I left,' Krampera recalls. 'But I made good money there…'
He took this opportunity to move on to another Italian loudspeaker company, B&C – and it was B&C components that he was to use when he later set up his pro audio design company, Class A. In the meantime, former RCF colleague Andrea Manzini had launched loudspeaker manufacturer Eighteen Sound, paving the way for the key strategic relationship between the two companies that was to follow.
'When I left RCF, Andrea had also left to set up Eighteen Sound and we made an agreement that he would provide me with bespoke components that he would add to his company catalogue only after a year,' Krampera says.
Krampera's return to the Czech Republic and the establishment of KV2 followed, reuniting Krampera and Vercelli under one roof and with a common aim. Vercelli's subsequent departure from KV2 in 2005 opened the door to Krampera's son, George Krampera Jr, who is now the company's CEO. The company remains fully family-owned.
On Point
In its simplest form, the thinking behind line array systems and point source comes down to how individual loudspeaker drivers are expected to contribute to a common aim. Line array theory dates back to a text published by US acoustician Harry Olson in 1957 that described a vertical arrangement of drivers that would 'couple' to form a single coherent wavefront with good lateral dispersion but limited vertical dispersion. This was a radical departure from stacking ever increasing numbers of point source boxes. Among other benefits, this promised to be both more efficient, as it concentrated its output in an effective field, and acoustically effective, as it kept sound away from potentially complicating reflective surfaces in a performance space.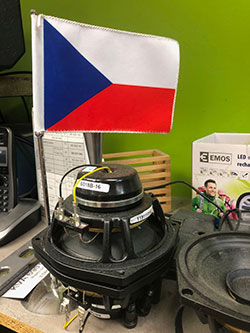 Point source systems develop their waveform from combinations of different sized drivers with a common 'virtual' point of origin to imitate free-field propagation, sometimes using electronic or acoustic time alignment to assist. The quest for a virtual point of origin has also prompted the development of dual-concentric drivers, such as those extensively used by Tannoy, to bring the origin points of two drivers as physically close as possible.
Coupling of drivers is also common in point source designs using multiples of smaller drivers as an alternative to larger low-frequency drivers, and also in the 'D'Appolito' configuration, where a pair of larger drivers are placed either side of a single high-frequency driver to centre their combined output. These techniques saw use in studio loudspeaker designs rather than high SPL level deployment, and stopped well short of what the line array was to become.
'I started doing large-scale sound reinforcement in the early 1980s with the first Turbosound TMS3 systems and, before that, Clair Brothers S4s,' recalls Croxton. 'And we just stacked up lots of boxes…'
Olson's work had remained largely academic until L-Acoustics founder Christian Heil adopted it in the design of the V-Dosc system in 1992, based upon his Wavefront Sculpture Technology (WST). As Croxton notes, this came at a time when higher SPLs still meant more boxes for point source systems – their outputs mixed in the space in front of the speaker deployment, often with significant phase cancellation that compromised their performance in both the audio spectrum and resultant sound level.
As Krampera is happy to point out, this marked a step change in the live and, to a lesser extent installed, sound industry. The control and quality offered by line arrays had put point source systems on the back foot.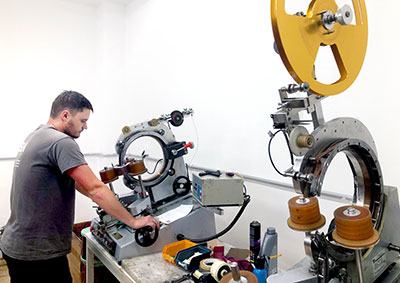 Now, Krampera's – and KV2's – counter argument is that a line array presents a listening area with a large number of individual drivers, each being a different distance from any listening position, giving rise to different arrival times and both constructive and destructive interference between them. He also has issues with the length of horn used in many current horn-loaded driver implementations, on the grounds that they are generally too long to be optimal for wavefront coherence.
Additionally, KV2 employs no DSP in its loudspeaker designs, in contrast to the reliance of the majority of line arrays on signal processing, which Krampera passionately believes to compromise the audio. The DSP that KV2 does employ lives in the front end feeding the loudspeaker system, which the company is pushing to – and beyond – the industry's current technical capabilities.
Krampera is not entirely alone in his pro-point source stance. Probably most visible within the point source camp is Funktion-One, whose founder Tony Andrews is a point source evangelist and whose systems have a devout audience, particularly within the dance music fraternity. Flare Audio has also challenged aspects of conventional loudspeaker design using a point source model.
Point of Delivery
The first fruits of a fledgling KV2 appeared in January 2003, when the ES System premiered at the Anaheim Namm show – this system remains in use and in production today. The company's latest is the VHD5.0 Constant Power Point Source System and the Super Live Audio (SLA) philosophy that underpins it, described by Croxton as 'a big step forward'. Between the two are the VHD2 Series, SL Series and ESR Series of active loudspeaker systems, and the ESD Series of passive loudspeakers, the deceptively tiny ESD Cube, and accompanying power amplifiers. In addition, there are stage monitors, system processors and a line of DI boxes.
'The number one mantra of this company is sound quality. That's something that George will not compromise on,' says Croxton. 'I came here with preconceived ideas about sound, and 90 per cent of what I do now is trying to pass on what I've learned from George. There is a lot of misinformation that people take as gospel – there is still that perception that more is more – but, over the past decade, we've been making our story clear to people.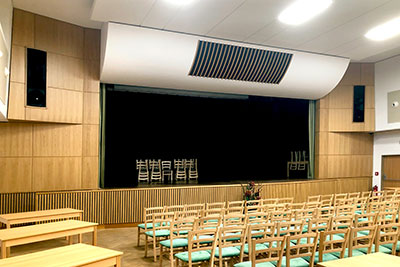 'With point source, there used to be two lines of thought – you point boxes at every part of the audience, and that the more boxes you've got, the more output you've got,' Croxton says. 'But you had increases of output in some frequencies and decreases in others, so the sound was different in all parts of the venue. Line arrays improved that, and it's been difficult for people to comprehend how one box, like a VHD2, can possibly match the output and coverage of a number of elements of line array. And it is because there is no destructive interference.
'High-efficiency boxes set at the right height – which is crucial – will project 60-70m with the people closest to the stage still receiving all of the programme but a little attenuated because it's off-axis. That one box will cover that whole 80m arc and be very consistent in SPL because the people who are directly on-axis are 80m away.'
VHD5 is a very large point-source system comprising 32 10-inch drivers, six 8-inch mids, and three 3-inch compression drivers in a single hang. The configuration employs KV2's Constant Power Point Source Array technology. 'Each of the system's components deliver enough power in that bandwidth to give us very balanced reproduction across the full frequency spectrum,' Croxton explains. 'VHD5 is unique – there is no other system on the planet like it.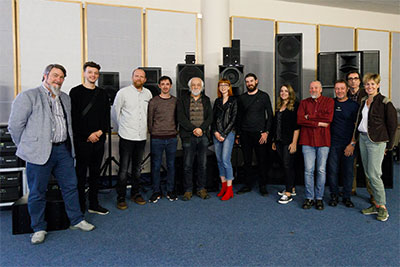 'There really is no better way to do large-scale sound reinforcement – less equipment is required to cover an audience area, which leads to lower capital outlay and a better return on investment. And pro audio is business, whether it's a nightclub, a production company or a theatre, and we can produce a better result with less equipment.'
KV2 reckons that it has proven VHD5 to deliver 100dB at 100m, with 1-2dB variation from front to back, running off just two amplifiers.
Then there is rigging and system tuning – where shoot-outs have provided the opportunity for direct comparison with alternative manufacturers' systems…
'The reality is that, while our competitors are rigging their large-scale systems and spending a lot of time getting all those elements time aligned correctly, and then sweeping the system and using all sorts of DSP, nine times out of ten we can be ready to go in about 15 minutes,' Croxton reports. 'It's quite a process to rig a line array. We hang the box and it's ready to go; we do not use external DSP. All of the filtering and time alignment are done within our amplification package. DSP is a dirty word around here.'
Talking Point
Krampera makes a distinction between playback systems and live sound, whereby the delays incurred by digital processing are largely irrelevant in playback but critical in live sound. He believes that processing time needs to be kept sub 500ns for live sound reinforcement and has adopted 20MHz sampling in the VHD5 electronics packages. The SLA spec claims >120dB dynamic range for its digital circuitry and 200kHz headroom in the analogue sections.
'I did a test,' Krampera says of digital sample rates. 'At 2MHz it's harsh; at 5MHz it's harsh; 10MHz was still harsh. At 15MHz we start getting something relatively nice sounding.'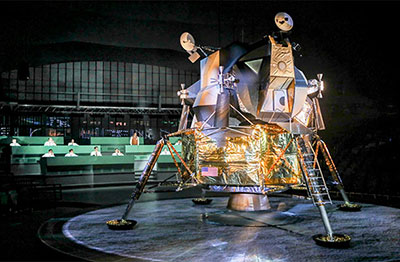 'We use a process that was developed by Sony and Philips in the late 1990s primarily to allow them to archive recordings at high resolution,' Croxton continues. 'At the same time, they released the SACD [Super Audio CD] format with 2.8MHz bitstream sampling. It uses a one-bit converter to send a stream of ones and zeroes, and the density of ones and zeroes creates the amplitude of the signal. It's a great format.'
Croxton also underlines impulse response as a key consideration in KV2 digital processing, and settling time as equivalently important in the company's analogue circuit design –presently measured at a fleeting 1µs.
'KV2 does everything in its power to produce a product that has absolutely minimal distortion and is true to the source – from the very small cube speakers right through to the VHD5 system,' Croxton summarises. 'We're still a young company and we're still learning how to apply these products in the market and in the field in the best possible way. It takes a little time to understand and to experience it, but once people have the concept and are using it, they become part of the movement.
'We believe that we've evolved to a better way of doing things,' he closes, 'and we would love to see other companies adopt our philosophies.'
See also:
Interview: Davies Roberts/Flare Audio
More: www.kv2audio.com