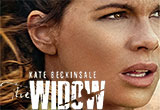 Best known for his award-winning music for Ripper Street, Marple and The Missing, Emmy-nominated composer Dominik Scherrer also scored the music for the BBC One/Netflix series Requiem, which was co-written with Natasha Khan (aka Bat for Lashes) and the four part sci-fi adaption The City and the City.
Most recently, he was commissioned to record and compose the soundtrack for the Amazon Studios US/ITV UK thriller, The Widow.
'The Widow is an eight-part thriller written and executive produced by Jack and Harry Williams,' he explains. 'I've worked with the Williams brothers in the past when I composed the score for both series of The Missing; the mini-series One of Us; and the recent Baptiste on BBC One.'
Based at his studio in London's Spitalfields, Scherrer recorded the majority of the material in South Africa using an RME Babyface Pro audio interface. 'The show is set in Wales, England, Holland and the Democratic Republic of the Congo (DRC),' Scherrer continues.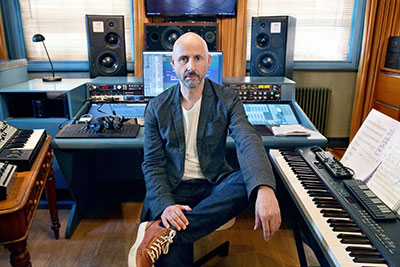 'My working method on these kind of projects is to start early, if time allows. I write and develop themes during the shoot, and interact with the cutting room to feed them the kind of rough themes they need to make the cut work. I'll then shape those themes into cues, orchestrate, record and get them mixed. I record a lot of the solo instruments early on, particularly where some improvisation is involved, so there is room to explore music avenues that would otherwise be difficult during the hectic postproduction process.
'I like to maintain a dialogue with the director and the producers, so I spent 17 days in South Africa, where the majority of the cinematography was taking place,' he continues. 'For a week I was in a well-equipped studio in Johannesburg, where I recorded solo vocals, vocal ensembles, rhythm sections, and ethnic instruments. The aim was to create a thriller score, with weaved-in Central African compositional and instrumental elements that reflect the Congo, where most of the action is set.'
The recordings were made on a portable Logic/Pro Tools-based rig, which served for composing as well as recording. 'The rig needed to be lightweight, small, quick to set up, and inconspicuous, and consisted of an i7 MacBook Pro – with internal and external SSDs – and the RME Babyface Pro,' he says.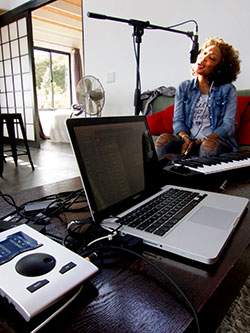 Supplied to Scherrer by UK agent Synthax Audio, Babyface Pro is RME's 24-channel desktop audio interface, offering microphone preamps, AD/DA conversion, super low-latencies, rugged build quality and equal performance on Mac, Windows and iOS. User-definable front panel controls, allow quick access to levels, gains, mono/stereo switching, phantom power and level recall.
'I was going to take a selection of up-market mics, but was told, "you don't want to walk around Johannesburg with a [Neumann] U-87 in your pocket",' Scherrer says. 'In the end, all I took was my ageing, inexpensive AKG C3000. I recorded vocals in a hotel room in Durban, and later I had a beautiful house near Cape Town for recording guitars, bass and vocals.
'Everything came out very high quality, even with the C3000 – the preamps in the Babyface Pro are crystal clear, and must have breathed new life into this mic. I also recorded electric bass via the Babyface Pro DI input, which worked out very well too.'
TotalMix FX is RME's monitoring and routing software controller, included with all RME audio interfaces. 'I always use TotalMix FX during all my recordings, so the artist can enjoy a latency free headphone mix, which definitely helps with the timing', Scherrer says. 'Vocalists normally get a bit of TotalMix's built-in reverb for monitoring comfort, and potential intonation aid. Everything was recorded dry into Logic, and I did some rough mixes of the new themes while on the road, to feed to production. I always use TotalMix FX during all my recordings, so the artist can enjoy a latency free headphone mix, which definitely helps with the timing.'
Coming home...
'Back in London, I did further mobile recording of Paul Clarvis, one of London's eminent percussion session players. Because of the wide range of instruments involved we recorded in Paul's garden studio, where he also keeps some of his huge collection of large and small drums, ethnic percussion and kits. I took along my RME Fireface UFX II audio interface, and using the internal preamps we recorded with a Neumann U87 (close) and two DPA mics (stereo room). With the addition of some reverb courtesy of our Bricasti M7 and the Exponential Audio Nimbus reverb plug-in, those recordings sounded huge, as they had to.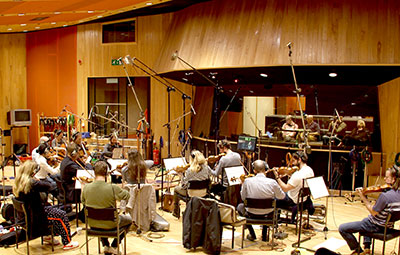 'Meanwhile on our second, nearly identical set-up, my assistant Martin Thornton was editing, cleaning up and tightening recordings. The B set-up uses a Mac Pro 2013 with an original RME Fireface UFX.'
The Fireface UFX II is RME's 60-channel flagship audio interface. Special features include the DURec function, which allows for direct multi-track recording to an external hard drive or USB thumb drive, and a direct connection for the RME ARC USB, RME's dedicated remote control for TotalMix FX.
'Once the cues were finalised, a string section [Chamber Orchestra of London] plus more large percussion, was overdubbed at Angel Studios in London into Pro Tools HDX. Those recordings were then re-transferred into Logic, and engineer Steve Parr mixed the score on our ATC SCM50ASL based 5.1 system [UFX II again], with final delivery in surround in nine stems in Pro Tools again, to the re-recording mixer Richard Davey, at Jumbuck Film and Television in London.'
Reflecting on his use of RME for this project, Scherrer comments: 'The Babyface Pro is compact, rugged, and has a convenient form factor, and the preamps are very good, with plenty of gain. We rarely have any technical issues with our two main rigs [UFX II and UFX] or the mobile rig [Babyface Pro], and everything is meticulously installed and maintained by my assistant. I am currently getting ready for more recording in Asia, for a new project that's set there, recording in a big studio in Bangkok, as well as more recording on the portable rig.'