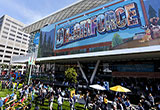 Aiming to create an immersive audio experience in a way never done before at one of the largest corporate events in the US, Josh Conway from BigBoyNoise reckons to be on the leading edge of technology.
Dreamforce is the annual user conference for Salesforce, the largest client relationship management software company in the world – and a place to show off the latest technology to tech-savvy attendees.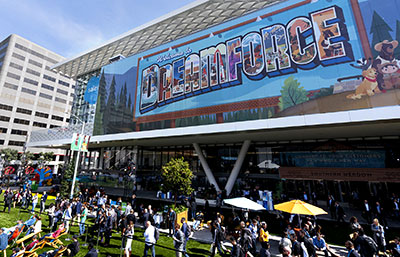 The starting point for the Dreamforce sound system design inspiration in San Francisco was the use of hundreds of live plants, giant trees and nature scene murals covering convention centre. Its goal was to replicate the sounds of nature using recordings specially created by Conway to establish a foundation for the overall space. Using eight omnidirectional microphones in the Lovell Canyon just outside Las Vegas, he captured two days of high-resolution recordings that were edited down to an 11-hour timeline.
Additional live recordings were provided by audio legend Dan Dugan using four microphones with minimal processing to capture the sounds of the Mariposa Grove of Giant Sequoias in Yosemite National Park and the Dipsea Trail located within the Muir Woods National Monument outside San Francisco, complete with rushing water in a nearby creek, and bird calls ringing through the forest at the break of dawn. The remainder of the sound files included migrating birds in flight, wind moving through the venue, thunder in the distance, coyotes and wolves howling, as well as a few small aircraft flying overhead.
The sounds all had a sense of location in the air space overhead the expo area, seemingly coming from between the actual speakers. The sounds were designed with the venue layout in mind, matching the locations of a forest of computer terminals, LED walls and attendee traffic areas to sound effects such as a bird flying overhead, including movement, when relevant. Visual lighting 'takeovers' included moving lights synchronised with the audio movement to simulate dawn several times a day, appealing to the senses of attendees to create the immersive experience of nature while walking around the expo space.
To create this perception of believable, three-dimensional nature for attendees, Conway needed multichannel audio mixing and processing technology that could envelop and immerse guests in the experience. L-Acoustics' L-Isa Immersive Hyperreal Sound technology provided the solution.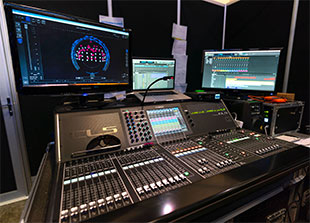 In a context such as the imaginary nature setting of Dreamforce, L-Isa, combined with lighting and staging, helped to create the illusion that attendees were actually outdoors. Following a couple of days spent in L-Acoustics' studio in California with Conway working on 3D audio content and getting familiar with the L-Isa interface, the design team was convinced that L-Isa was the solution to create a unique immersive experience.
Conway calls immersive sound design one of the biggest advancements in his 25 years of experience working live events: 'It's all-encompassing. It's blending between multiple speaker zones to where you don't get that hot spot of walking in and out of a speaker zone because the blend is so smooth all the way across. The sound system goes away and it just becomes a natural ambient sound.'
The L-Isa deployment at Dreamforce was unique. 'It was interesting from both a technical and creative perspective to see L-Isa used in this fashion,' says Marcus Ross, Head of Application, Touring for L-Acoustics. 'It's a departure from what might be considered our typical deployment for live performances but opened a lot of ears and brains to the tremendous possibilities of L-Isa for creative sound design of immersive sonic environments. The L-Isa Controller, used here to position, automate, and move sounds, greatly simplified the implementation and operation of what would have otherwise required a very complex set-up. There was authentic depth and dimension to the recordings that made the expo hall audio sound rich and lifelike.
In addition to the L-Isa Controller and the L-Isa Processor for object placement and spatialisation, the L-Isa configuration at Dreamforce comprised a frontal system of 12 arrays of six Kara each located in front of the projection screen with low-end frequency reinforcement provided by four SB18 subs flown in the centre of the exhibit space in a block configuration. A total of 25 X15 HiQ coaxial loudspeakers distributed throughout the venue provided the overhead coverage that enabled seamless delivery of nature sound effects. The entire system was powered by 25 LA8 and two LA12X amplified controllers.
'L-Isa makes a lot of sense from a plenary speaker localisation and intelligibility standpoint to creating an immersive environment or enhancing a dramatic product release with 3D sound effects,' observes Laurent Vaissié, CEO of L-Acoustics USA and Canada. 'L-Isa's intuitive mixing tool and comprehensive ecosystem also cuts down production preparation time substantially for complex corporate shows such as Dreamforce.'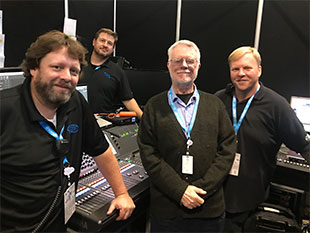 Conway was working with leading audio-visual production company Mountain View Staging on this project. MVS has been on the cutting edge of advancements in the visual and audio aspects of events for many years. MVS and Conway are both experienced in the fact that event planners are less aware of the potential to combine new audio technology like L-Isa to enhance and support the visuals.
'One of things I like about partnering with MVS on this is being able to tie in all the visuals,' Conway says. 'In previous designs, the sound doesn't move. Now, with this, we can custom tailor our sounds to follow those graphics and we can move it into a 360 realm of encompassing the entire audience. This allows us to be a lot more impactful with our message. It also allows sound to become more of the design from the forefront as opposed to an afterthought.'
Every L-Isa sound system design is unique to what the client wants it to be, limited only by imagination. To make the most of L-Isa's creative possibilities, audio can be specifically recorded to take advantage of the technology's multichannel and multidimensional placement capabilities. Conway worked using the L-Isa Controller, an intuitive graphic user interface that controlled the location of each sound in real time. A given 'sound object' could be moved across the screen to mimic how a bird might move in nature, thus giving a dynamic, hyperrealistic feel to the recordings from Yosemite.
'This is going to be a totally new way of doing things. You're going to walk into a venue and as soon as you walk through the door you're going to notice that something is different,' enthused Conway. 'The sounds are going to be moving around. The visuals are going to be moving around.'
Mountain View Staging Audio Systems Manager Chris Kaletta worked with Conway on the system for Dreamforce as the overall lead for the audio production and had some insight regarding the impact the system created. At one point during set-up and testing the L-Isa system was turned off temporarily: 'It was immediately noticeable that it was normal audio again and went from nature all around to there's a speaker and there's a speaker,' Kaletta reports. 'It sounded terrible in comparison, but this is how it had been done in the past.'
The drawback to immersive audio may be that – once used to provide more natural, balanced and location-specific audio – everything else appears to be a step backward.