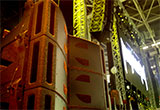 With only two UK appearances for Justin Bieber's Purpose world tour, the PA had to provide a convincing snapshot of his presence: for him; his exacting crew; and his fans. The single show at Cardiff's Principality Stadium (formerly the Millennium Stadium) drew media attention and thousands of followers from all over Europe.
It also represented another UK showcase for Outline's GTO line array, as UK-based rental mainstay Capital Sound's hire inventory was already heavily committed.
The system was designed by Vincent 'Vinnie' Perreux, Outline's Worldwide Technical Support, Application Engineer/GTO Network Manager – a new position created in September 2016 to establish an Outline Network around the world and to supply Outline's customers with the kind of tour-savvy experience that only veterans like Perreux can provide. The opportunity arose after Capital Sound's Senior Project Manager Martin Connolly had proposed the system to the production team following typically close consultation with promoter AEG.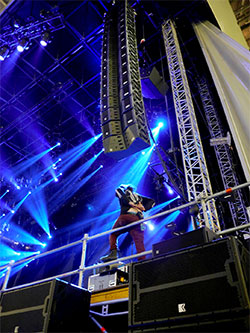 Also present was Robin Conway, Head of Development at Capital Sound. Part of Conway's brief is to target engineers at an early stage and get them familiar with Capital Sound's solutions – not least breakthrough products such as the GTO (Grand Touring Outline). Accordingly, this was the first time that Bieber's FOH engineer – the mix guru known simply as 'Pooch' – had used it.
'Justin Bieber regularly tours with well-known 15-inch boxes, so we had to establish what was the best fit – and Outline was definitely it,' Conway says. 'We had to get the right proposition for the American engineers, and we knew that thanks to the Outline Network we could source a GTO system from Poland, supplemented by our control and delays. They didn't need much persuading: they know and trust Vinnie and were aware of Outline's growing reputation.'
Perreux already had the Cardiff stadium stored in his OpenArray acoustic measurement files, and Capital had been there many times before with major pop acts including Take That. Following initial calculations, the roof was unexpectedly closed two days before the show – but this did not deter from the basic design.
With a DiGiCo SD5 for the FOH mix, the main PA hangs and side hangs included 15 of the 2x15-inch GTO elements with one GTO-DF down fill at the bottom of each hang, plus 12 GTO-Sub flyable subwoofers per side. On the ground were nine DBS 18-2 subs in an independent block each side, with further reinforcement provided by LIPF-082 lip fills and three-high stacks of Mantas 28 line array elements between the main and side hangs. Another stack of three Mantas 28s sat in the corner of the thrust stage, also for near-fill coverage. The LCR flown delays were made up of 15 GTO C-12 elements plus three more Mantas 28s in each hang.
'In terms of control we have large primary and secondary Dante networks running, onto which we've placed all the data including the delay measurements from Smaart,' Conway continues.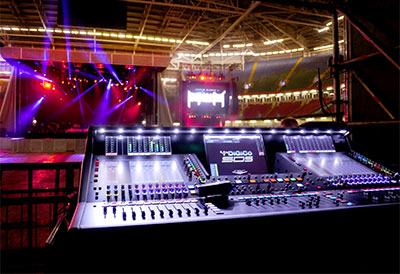 'It gives us complete control of all the amplifiers including our Outline X8 DSP models – the ones developed with Powersoft – and the ones we sourced from Poland, which are actually Powersoft K10 and K20. I forwarded the IP addresses so they could be preconfigured, and when they turned up I connected the Cat-5 cable and there they were on the network, immediately. Every amplifier channel, the speaker management, the distribution, the power management – it all came together really quickly.'
Perreux explains the circumstances under which Outline's flagship line array came to the attention of Justin Bieber's experienced sound crew: 'I introduced the GTO to Pooch and his crew because they needed something quickly for this show, and I have a very good relationship with Capital Sound.
'We managed to find the right inventory using the GTO Network and once the Justin Bieber team saw my design for the Principality Stadium they went for it. It was Plan B, but this is exactly the kind of scenario for which we created the GTO Network and for which Capital Sound has added Outline solutions to its armoury.'
A busy festival schedule had necessitated the return of the main PA to the US in readiness for more summer dates, and the two UK shows on the tour became sandwiched between several other commitments. With the other being at Hyde Park, it made sense to turn to mostly local production for both dates.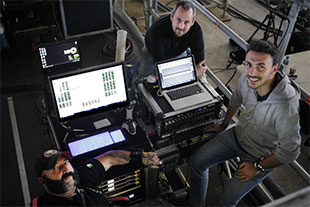 'I was really glad that Vinnie recommended this box,' says FOH guru Pooch. 'After using it I'm surprised it's not in more people's speaker riders. The frequency response, vertical and horizontal coverage and overall speaker signature is competitive with all the other top line arrays out there.'
It also handled the exceptionally intense pop peaks of Justin Bieber's bustling set, according to Pooch, with arguably more strength than the accepted norms. 'It reproduced my mix very well – no complaints. I have a lot of dynamics in my mix and it handled that without limitation. There are some other speaker manufacturers that can't handle the moments when I really step into the PA for impact. They go flat. Outline had plenty of headroom and didn't fall on its face for the 104dB moments in my programme.'
Although not used on the night, Outline's up-and-coming Newton 16+8 audio system control and networking processor caught the attention of all the engineers present – including Pooch. 'I'm really interested in getting my hands on the Newton,' he said. 'I think that it's a great tool since it's a box that will handle so many different formats. The fact that I can input and output so many different digital formats makes this a really great proposition. Hopefully I can get a demo of one soon…'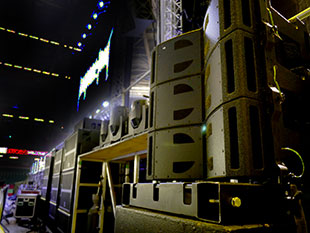 Before working at Outline, Perreux spent more than 30 years in high-end touring as sound engineer for FOH and monitors, and as crew chief. So when he suggests something to an old mucker like Pooch, he tends to get heard… 'I've been around the world with these guys,' Perreux says, 'and I've built up their trust. I have to believe in the product genuinely or these relationships wouldn't work. They have to take me seriously. I feel the same way about the Capital Sound crew: they know exactly what I need and they deliver it.'
'Capital Sound wants to provide customers with viable options, and to have a wide variety of tools in the toolbox,' adds Robin Conway. 'Outline is by far the best alternative to the main brands you'll see on the riders, and it doesn't demand the highest of premiums. This is simply because it's less well known, not for any shortfall in quality. It has high-end processing; high-end amplification; it's really well built; it flies beautifully; and it delivers one hell of a punch.
'Gigs like this present no problem. If people are willing to trust us, they'll find it offers superb value for money.'