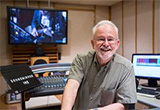 Taking on location recordings throughout North America, Europe and Russia, recording entrepreneur John Newton refers to 'exotic locales' – as exemplified by his most recent project in Russia's Saratov Cathedral. Here, the founder of Soundmirror Recording has unpacked up his mics to record a male voice choir.
Founded in 1972, Soundmirror has undertaken projects for every major classical label and received more than 80 Grammy nominations and awards.
With a 20Hz-100kHz range, the Sanken Chromatic omnidirectional condenser microphone is the world's first 100kHz microphone – and the preferred mic for Newton's work: 'So far, we've used the 100K's on two occasions as main left-centre-right microphones for surround recordings of choral groups,' he says. 'The Sanken Chromatics have a character and a colour that can be particularly enhancing with choral groups.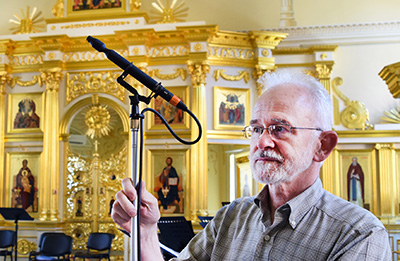 'We've also used them in a chamber orchestra setting, but they are very bright microphones. You have to know how to manage the brightness to make them effective. We're just really getting started with them. I take the 100Ks out more and more often to get experience with them.
'We know this choir from earlier recordings and based on the way that cathedral sounds – it may very well be a natural 100K kind of project,' he continues. 'What we're interested in primarily in our choice of main microphones is a mic that has a pleasant sound or a wonderful colour or character for the particular ensemble that we're miking. The high-frequency performance is an interesting specification, but I don't think that's what's most important about the microphone – the colour is what's important.
'We're learning how to work with the high-frequency performance. Many times, if our appropriate microphone distance is a little bit on the close or short side, the microphones are very bright and other microphones might sound better in those situations. As the pick-up distance gets bigger, the high-frequency response becomes more of a useful tool.'
Newton first used Sanken Chromatic microphones 20 years ago when he purchased dual-diaphragm CU-41s. Recently he has been experimenting with a prototype of Sanken Chromatic's newest microphone, the CU-51, which also features two diaphragms.
'We use the CU-41s and now the CU-51s as spot microphones for different sections within the orchestra,' he explains. 'The French horn section especially benefits from the properties of the Sanken Chromatic mics. The off-axis and rear rejection is very good and uniform. The French horns always sit in a place where we want to pick up their sound, but not the surrounding instruments.'
'They're slightly different colour-wise – the 51 is a little cleaner and a little smoother, which is a logical result of 20 years of development in microphone technology. Because these mics combine a high-frequency element and a low-frequency element, Sanken can manufacture the capsules in a way that gives you that great off-axis performance, which is harder to do when a single capsule has to have a full-range capability. It's much like a woofer and a tweeter in a loud speaker. Loudspeaker companies can make the total speaker a better performer by having two different drivers rather than just one.'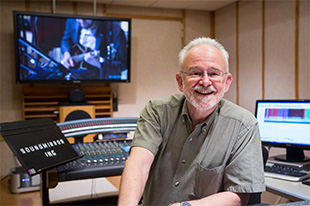 John Newton continues to be a pacemaker in the world of digital recording. In 1981, he was director of the US East Coast office of Soundstream, the digital recording company founded by Thomas Stockham.
'Soundstream built the world's first digital tape recorder suitable for recording music,' he says. 'They also built editors that could edit that digital information. They pioneered the entire digital recording concept.
'In the early days of Soundstream, we were still making LPs, because that was the consumer medium. The digital properties of no wow or flutter, and a very linear, low-frequency response were immediately audible even with the vinyl interface. As CDs took over and the various problems of vinyl went away, the Soundstream recorders and technology were appreciated even more.'
After Soundstream's demise several years later, Soundmirror stepped in to continue providing state-of-the-art digital recording services for the major record labels, which were then converting their entire catalogues from analogue to the digital format. Newton also worked for four years with Sony and Philips in the development of the SACD, a high definition multi-channel format with greatly improved resolution, three dimensional sound, and clarity far beyond that of traditional compact discs.
'At Philips Classics, I ran their recording department in the late 1980s. That relationship with Philips, which was one of the two partners in the development of the SACD, led to quite a number of opportunities to begin making modern surround-sound recordings using DSD recording and postproduction equipment. That taught us very quickly the benefits of that style of digital recording, because it's a clear improvement over PCM recording.
'Our overall game plan is to produce recordings that expose the very best sonic and musical properties of the group we're recording. The sonic properties are principally determined by the space that the recording takes place in and the choice of main microphones.'
Newton is currently putting the finishing touches on a new recording of the St Paul Chamber Orchestra that used the Sanken Chromatic CO-100Ks in their new concert hall.