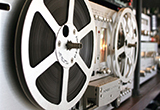 With two MPG Mixer of the Year awards under his belt, music producer/mixer/engineer Cenzo Townshend opened the doors on his Decoy Studios in late 2014. The move follows time at London's Trident in the 1980s, work with Ian Broudie and then Stephen Street at The Bunker in Olympic Studios.
In the Suffolk countryside, Decoy studio complex is kitted out with choice equipment, centred on Audient ASP8024 and SSL SL4000G mixing consoles.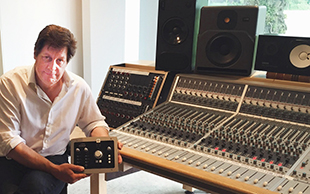 Designed by White Mark, Decoy comprises the main Studio A with Live Room and The Library recording booth/auxiliary studio, and the Studio B Mix Suite. Where the Mix Suite has an SSL SL4000G desk with Focal SM9/CMS and Yamaha NS10/Bryston monitoring, Studio A is equipped with KRK 900B and E8 speakers, as well as Tannoy SRM10Bs and a further pair of Yamaha NS10s. Both control rooms has an enviable selection of outboard – from the likes of Neve, Telefunken, Tetetronix, Pultec, Empirical Labs, Lexicon, Eventide and TC Electronic.
The Live Room is made distinctive by the Drumbrella, a circular acoustic device that allows the room acoustic to be modified.
The Audient console was not acquired for Decoy – rather, Townshend brought it to the studio with him: 'It's my dependable rock,' he says. 'It's been all over England with me when I had the mobile studio, Electric Landlady. If that console doesn't work then I know that there's something fundamentally wrong with the studio.'
The console is used for tracking, overdubbing and mixing. 'It's getting a lot of use every day,' Townshend reports. 'It's a very stripped down console with an awful lot of features. It's very dependable, robust and sounds great. We try a lot of different equipment in that room too; most recently we've been using the new iZ Radar so we've had a lot of people coming in to do listening tests. It always sounds great through the Audient.'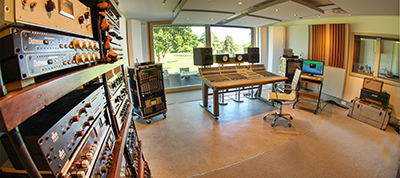 A wide range of artists come through the doors of the facility, ranging from unsigned bands, rising star Rhodes [Ministry of Sound], to George Ezra and The Maccabees. Some of Robbie Williams' recent live recordings have also been mixed here, with producer Richard Flack doing a 5.1 mix using the console and Audient's ASP510 surround-sound monitor controller.
'I've not had anything from Audient that isn't a good box,' Townshend says, having recently added the Centro monitor controller and iD22 stereo mic preamp/interface to the studio's kit list recently.
'We keep lending our iD22 to clients, actually,' he adds. 'If they come in with their laptops and need to plug something in or work next door [in The Library], it's ideal. The Maccabees had it for about a year… I love it though, it's so beautifully built – everybody that picks it up says the same.'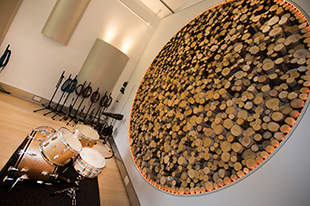 In fact, the mic preamps are the same as those found on the ASP8024 console, which he describes as, '...really good and solid.
'We've got Neve preamps as well, but the other day we recorded a band and we ended up just using all Audient for speed and reliability. We didn't plug anything else in. It's great to be able to do that with the Audient. The current album we're working on with Rhodes is a very pure sounding record, very organic -– the desk is really helping with that.'
With consecutive years as MPG's chosen mixer (he relishes having received one of the awards from Brian Eno… 'that will certainly stay with me'), he has some advice for those setting out: 'Learn to listen,' he says. 'Listen to instruments, bands; go to classical orchestral concerts and really listen to what instruments sound like. Hear how musicians balance internally without somebody turning faders up and down.
'And learn to record – properly. A lot of people just want to mix, overlooking the skill and necessity of making a good recording, until they start mixing and realise that it's badly recorded and impossible to mix well.
'Also, listen to old records – vinyl, of course. They give you a completely different perspective,' he adds. 'It's very grounding to listen to that and to hear what you're actually up against.'
More: www.decoysound.com
More: www.audient.com
More: www.whitemark.com