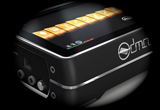 Anywhere there is a mixing desk, engineers have seen digital systems pulling 'outboard' processing inboard – in just the same way guitarists have seen their custom pedalboards challenged by digital multi-effects.
For some this is progress but for others it's a loss of individuality and control. All agree, however, that it's inevitable. All want to know what's coming next – and the guitarists are ahead…
Their insight comes through a new approach to effects processing that is being pioneered by British company Dark Matter Audio (DMA). And in great British tradition, it all started in a shed – well, an old studio building to be precise.
'In 2009 Jon came up with an idea for a new audio platform. DMA was the chosen company to take the idea forward because we had worked for Jon on a few projects before.'
The speaker is Andrew Elder, one of the company's four directors, along with Jon Stuart, Alan Greensall and Leo McDowall-Benton. Between them, they have a particulary broad experience of the MI and pro industries, and were looking to pitch a curve ball.
'With Jon's business experience from the gaming industry and from running his own studio, and our combined tenacity, we had high hopes of making the idea a reality,' Elder says. 'From the outset, we wanted this to be very much a British product to prove there is still great technological innovation coming from the UK.'
Enter Dark Matter Audio's DMA1. Unleashed on an unsuspecting audience at the 2011 Frankfurt Pro Light & Sound show, it promised to be 'anything you want it to be' – guitar effects processor, high-quality studio tool or performance instrument. 'We've endeavored to create a paradigm shift in the world of audio production and performance,' said Jon Stuart. And they may have succeeded.
Take a walk on the Dark side...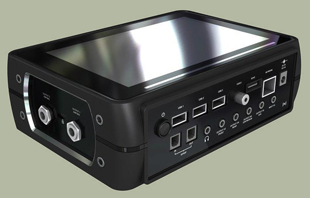 There is a growing realisation at the sharp end of audio equipment development that smartphone apps are not only changing our approach to mobile devices, but that the app paradigm will shape future computer operation and beyond. Into audio, for sure.
There is evidence – for a start, there are apps that offer system control from smartphones and, more recently, tablet computers like the iPad. Among these are mixer remotes from Allen & Heath, Lawo and Yamaha, loudspeaker remotes from HK Audio and Outline, and a variety of others from the likes of SSL, AKG, Sound Devices and Aeta Audio. Then there is the app-based 'zero learning curve' Jupiter audio processor from Symetrix. The names and range of applications speak for themselves.
At the heart of the DMA1's operation – and its marketing – is an open-architecture approach that uses an Online Store to allow end-users to wirelessly update the unit from a library of audio apps. At the development end, this opens the DMA1's potential development pool to an indeterminate number of users, programmers and geeks.
'The initial concept for the platform was that it was going to be easy to carry around, have high-quality effects downloadable from a database via Ethernet/Wi-Fi, and provide programmers with a really easy-to-use API [application programming interface],' Elder explains. 'In 2010 we hit the ground running and by April we had our first prototype, albeit a simple one. However, at this point the concept had moved on and we realised the chipset wasn't powerful enough to do what we now wanted – to have a truly superior all-in-one solution not just another me-too product.'
The DMA team moved to a SHARC and ARM combination ('to see what grunt we could really get') and enlisted the help of a number of audio professionals. With audio processing estimated to be 20 times the processing power of an iPad2, the team were soon running three digital delays and two chorus, plus distortion and compression at the same time.
'We built another prototype during that year, and with help from our CBDO, Alan Greensall, we took it to Winter Namm to tout around. We received a great response from distributors from all over the globe, and enjoyed the sunshine. From that point onwards, we were sure we were onto something really good.'
The Frankfurt Pro Light & Sound show was the next major milestone, and the DMA1's official launch: 'We furthered our discussions with distribution and picked up a lot of press,' Elder reports. 'Since then, the team and company have come a long way, though it has been a hard journey with a few surprises – both good and bad – along the way.'
Dark vision – reshaping recording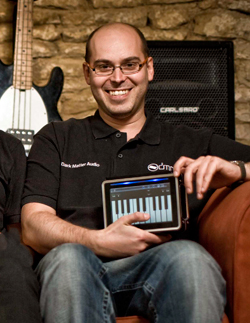 So, if the DMA1 truly represents a paradigm shift in pro audio, what does the Dark Matter team anticipate in terms of its early adoptors and its effect on 'conventional' kit?
'We expect that the very first users will be the gigging musician looking for an "all-in-one-box" solution, which allows them to carry less kit and have a really quick set-up time,' Elder says. 'It will give them a set-up that can be plugged straight into a PA with most of their mixing already done. This will filter into the home and pro studio from there.'
The DMA1 isn't the whole story, however – Elder reckons it's about 70 per cent. The website that will provide the app support is being developed, and the DMA developer community is growing.
'The website is being built along the same thought processes as the hardware – a totally integrated solution,' Elder reveals. 'It will have social networking elements allowing musicians to find each other and look for new band members by various criteria, showcase their music, link to the device and manage their apps, check out what other people have bought (including user rating systems) and there will be a forum as part of the main site. It will be really cool, easy to use, a good marketplace and what you need as a musician.'
Raising the question: 'Why go out and spend loads of money on separate bits of gear when you have the option of the DMA1, each effect can be stacked up multiple times in a near infinite amount of ways, which lets you experiment with sound like never before?
'With the gigging musician or band in mind, we want to make sure we have some good vocal effects onboard (we are chatting to a very good company about porting theirs), good guitar and bass effects. We will be adding a series of synths, recording software, tutorials on effects set-up and some teaching material too.'
The impact that a successful DMA1 might have on established equipment is difficult to estimate: 'This is a hard one,' Elder concedes. 'Like many new technologies, it will probably be the last one we expect.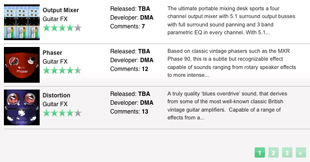 'There are several roles the DMA1 can fulfil in a studio. We see several obvious uses, from enabling musicians to be able to take in their unique sound – which will already be at studio quality so won't need messing with too much – to the being a pro item of outboard gear or even a headphone practise/monitoring tool.
'On a larger scale, we see DMA1s connected together and synced through Wi-Fi or an RJ45 network. This will allow several units to be stacked in a sensible studio way through a desk where one controls, say, the final mix out (Exciters, Maximisers) and the sequencing, while another provides effects and others work as stacked programmable outboard gear.'
And if it is to have such an impact on musicians and their working practices, the DMA1 will necessarily also provoke a response from other manufacturers…
'I am not sure we can define, for instance, Roland's business strategy,' Elder says. 'All we can say is that people from Korg and Roland visited our stand at Frankfurt, and took interest in what we were doing. On the whole, the market is evolving anyway so we expect there to be many changes over the next couple of years with new products and companies coming forward.'
It seems inveitable that faster and more powerful DMA systems will follow, offering more channels and a wider variety of applications. It's possible to imagine complete integrated solutions – not just for gigging but for home/project studios and professional studios.
And with their ability to adapt to new applications, they could also signal an end to obsolescence. Who would be up for that?