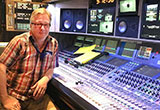 Working on some of the most popular primetime entertainment shows on mainstream UK TV, Sound Supervisor Rob Ashard's audio mixes are heard by millions of viewers around the country and worldwide on a weekly basis.
'I joined London Weekend Television as an apprentice, working on the studio floor for about four years. I then graduated to Gram Op, as well as covering other jobs like OB Comms, before becoming a Sound Supervisor, and then going freelance.'
'These days I cover a range of productions for the BBC, ITV, Channel 4 and Sky, along with others like Dave, and bear responsibility for a variety of tasks – from mixing TV shows in studios, OB trucks and de-rig situations, to supplying crews and equipment if necessary.
'I did ten series of I'm A Celeb in Australia, about ten years on Dancing On Ice, and I'm also currently doing Taskmaster – quite a wide range of stuff. I also have jobs which require me to work and mix from smaller, on-site locations, and that's where this portable rig comes in.'
Ashard's portable rig is based around an Allen & Heath SQ 5 console, with a selection of outboard providing analogue and digital I/O, clocking, and a dedicated hard disk recorder. It also includes a Ferrofish A32 Dante, a professional 32-Channel AD/DA converter with Adat, Madi and Dante connectivity.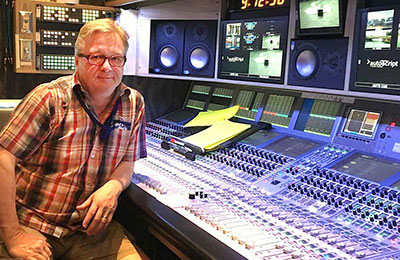 'My portable rig is Dante-based, with an A&H SQ5 for the mixer with the optional Dante card, which has worked flawlessly,' Ashard elaborates. 'In the rack you have PPMs which are fed off the SQ5's AES output. There's also a Sonifex RB-DA6 [distribution amplifier], Rosendahl Nanosync, the fabulous Ferrofish A32 Dante – which is really the heart of this set-up – then my trusty analogue 24-track JoeCoe BlackBox for hard disk backups, which is fed from the A32 Dante's analogue outputs.
'The SQ is a fantastic desk. Massively flexible, broadcast friendly, and has the feeling of a much more expensive desk. It works internally at 96kHz, which is fabulous, sonically, and since an update you can record via USB now at 48kHz, but it doesn't have a reference input, so you couldn't lock your audio file 48k to video.
'I've got round all that by adding a Dante card running at 48k, with the Ferrofish A32 Dante taking an external 48kHz reference from the Rosendahl Nanosync, so all Dante recordings on my laptop are locked to video and at 48k.'
Ashard's laptop – or laptops – are plugged into a network switch, and run Dante Virtual Sound Card and Boom Recorder. An Aja Ki Pro Rack (supplied by Terry Tew) is also used for video playback, which is genlocked to the Nanosync, and which also supplies the 48kHz audio reference to the Ferrofish.=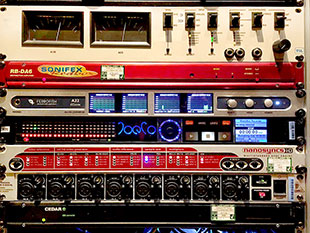 'This forces the Dante to that 48k – which the video is locked to – so my multitrack Boom Recorder recordings are locked to the video,' he says. 'Everything is then backed up via analogue to the JoeCo, which is also locked to that 48kHz reference. This should mean that those audio files will drop in at the edit and stay in sync for the duration.
'The rig often gets put through its paces,' he continues. 'For example, on Al Murray's Pub Quiz, as well as the mix and multitracking the show, it was driving a PA system, which is fed back to the participants and studio audience. So I'm producing a mix with an audience, multitracked mics and subgroups, as well as feeding cross-foldbacks on-set between the quiz teams.
Cross-foldback is where two teams' microphones are fed to dedicated loudspeakers located behind them, to ensure everyone can hear each other clearly.
'I also had two presenter pre-hears which are sent to the director's talkback,' he continues. 'And I'm feeding the PA system – all just as I would on a bigger console like a Studer or Calrec in a TV studio.'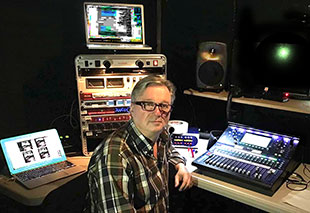 Ashard's portable rig demonstrates the flexibility offered by the Ferrofish A32 Dante, which provides 32 channels of analogue I/O in 1U of rackspace. Digital connectivity includes Adat, Madi and Dante I/O, with additional features such as extensive front-panel metering for all 64 analogue channels, an on-board headphone output for monitoring, and redundant power supplies.
Of the A32 Dante, Ashard says: 'It does everything I need it to – I can genlock the Aja to my Nanosync, which also supplies the 48k audio reference to the Ferrofish A32 Dante, which in turn forces the Dante to lock to that 48k that the video is locked to. Test recordings are good, with the tone squeaky clean and no clicks via Dante. If there were issues I can always take the Madi out into my RME Madiface USB audio interface.
'Meanwhile I couldn't be happier with my A32 Dante, with all the versatility that it brings – 64 channels of Dante and converting it to 64 channels of Madi, and also 32 channels of analogue audio out, which I use for recording backups to my trusty JoeCo. All routable in chunks of eight.
'I'm also aware Ferrofish have a 16-Channel option as well [the Ferrofish Pulse 16 DX], which looks like another useful box. Cheaper than the A32 Dante that I have, with just the 16 analogue I/O, but still having the 64 Madi, 32 Adat and 64 Dante.'
More: www.synthax.co.uk