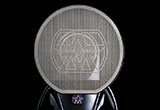 Following 18 months of R&D and three months of development, followed by extensive listening tests, Aston Microphones has released the details of its forthcoming Aston Element and the R&D behind it.
Using a series of public testing sessions, the company steered the performance of the mic using data collected from comparison tests with major marques. Aston calls the outcome The People's Microphone.
Bringing the Aston Element to market has taken more than twice the usual period required for microphone development. 'The first 15-month period of our R&D process involved the development of our new Ridyon capsule technology, the acoustic housing for this – which involved a lot of testing – and the design and prototyping of the chassis, the grille diffuser and many other pieces of proprietary technology in both the mic and the shockmount and pop shield accessories,' explains company CEO, James Young.
The final three months, however, were devoted to canvassing public opinion of the prototypes' performance, with the data peer reviewed by Music Tech Magazine and Sound on Sound to ensure impartiality.
'Rather than simply putting a new technology straight to market, we engaged in public blind listening tests – by which we mean that audio files were made available to the public to audition and rank in order of preference – in three sessions over a three-month period. The results of this process are what have determined the sound of the final product,' Young elaborates. 'We've learnt a lot of things from the voting data of more than 4,000 people…'
Listening in
Aston chose to put the emergent Element up against a selection of mics considered to be the best in their class. These included microphones from Audio-Technica, Røde, AKG, Blue and Neumann, which were picked from more than 20 brands on the strength of their performance.
'T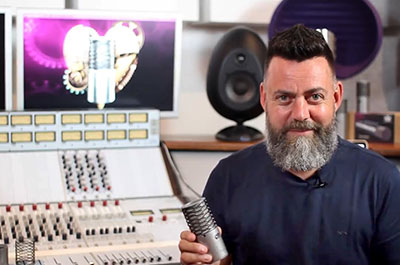 hese brands make superb products, but our goal was to make a mic that is able, in blind tests, to be consistently voted as the favourite,' Young says. 'Of course, this doesn't mean it's the "best" because mic choice is very subjective. However, it does mean is that the majority of people prefer the sound they get from Element over big brand competitors, and that means you can be absolutely confident that you'll get superb results every time.
'All the comparison mics chosen for these sessions are very good examples of entry-level mics from each brand. We did not make this easy for ourselves. We wanted the best so that we could make our own mic as good as possible. As the sessions progressed it was clear that the voting got closer and more difficult for participants to rank in each successive round. This is something we saw not only in the subjective comments, but also in social media threads about the project. That's a good thing, because as you get better and better quality and performance, it becomes more difficult to chose between products as the differences are much smaller – so we knew we were on the right track.'
Voting in Session One highlighted which mics the public preferred on three sources, male and female vocals, and acoustic guitar (the same three sources chosen throughout the tests), and what was liked and disliked about the sound of the raw Element prototype. Session Two reduced the field to three competitor mics chosen by the public, and two new versions of Element.
'By the end of the second session we had a much clearer picture of what people wanted from our mic, driven by the voting, subjective comments made about the competitor mics and the relative preferences for two very different sounding prototypes,' says Young.
Session Three pitched two remaining mics from AKG and Neumann and four different Element prototypes against each other, each with different voicings based on preferences from the earkier rounds. In the final analysis, one Element prototype was determined to be a 'clear winner'.
'The Element in the final round, outperformed the other mics in the test on both male and female vocals, but was narrowly beaten by both the Neumann and AKG on guitar,' Young reveals. 'The total vote count across all three sources showed Element as the clear winner, both in total votes and in winning two out of the three source tests – vocals being the big one as on any non-instrumental track they are the most important element of the recording.'
The Aston Element
The Aston Element design uses Ridyon capsule technology, which Aston reckons to combine the best features of dynamic, condenser and ribbon microphones. Using 48V phantom power and a lightweight active-moving-coil-diaphragm, it claims high-end condenser mic sensitivity and performance, with the bass and rejection capabilities of a dynamic mic, and the open sound of a ribbon.
'Moving coil mics have been historically perceived as being inferior to condensers, mostly due to manufacturers building very cheap capsules for the mass-live market. But if you ask any professional engineer they'll tell you that a world class studio dynamic mic will deliver some of the best sounding results you'll ever get,' Young says.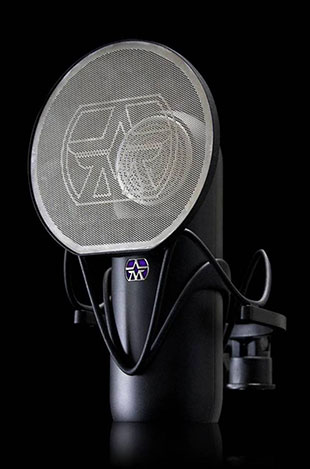 'The design of the Element capsule addresses all the "shortcomings" of moving coil – no top end, shouty mids – by making the super-lightweight diaphragm behave more like a ribbon in terms of its movement characteristics, delivering better mid-range performance and SPL handling. The diaphragm is much larger and lighter than other moving coils, which gives a high-frequency response that is much more like a condenser. The added bonus being that, when you put these two characteristics together, you get a microphone with a better bass and transient response than either a ribbon or a condenser.'
The Element's capsule is significantly larger than most at 1.5-inch/38mm, allowing the diaphragm greater room for excursion than smaller capsules in order to handle significantly higher sound pressure levels before distortion. This freedom of movement also contributes to a better bass response than comparable designs. The capsule also uses an internal 360° suspension system, rather than the more common mounting of the capsule at a single point, which makes them more sensitive to handling noise and external vibrations.
'Both the capsule body and mic chassis have been designed to provide the flattest possible frequency response,' Young asserts. 'The Ridyon capsule is unlike that of any other microphone, in that it uses acoustic treatment rather than metalwork to achieve this. The custom – and very retro-cool looking – grille acts as a diffuser for source audio entering the mic, and the contoured body shape and slimline monocoque capsule housing helps direct source audio to the capsule with minimal diffraction. Put simply, the design of the microphone itself maximises the performance of the capsule inside.'
Coupled with the extended diaphragm movement, the circuitry design is able to handle about 150 times the maximum output from the capsule to eliminate electrical distortion.
'Condenser microphones at this competitive price point have one thing in common – the capsules are, let's say entry-level quality,' Young reiterates. 'The capsule of our own Aston Origin is very obviously of significantly better quality than that of other mics in its class, which is why it is consistently compared to mics ten times it's price in reviews and by professional producers, artists and engineers across the world. Even the untrained eye can see it in the engineering quality of the capsules we build. So, rather than going down-market and making another me-too condenser mic with Element, we focused on the development of the most advanced moving coil mic in history. This has allowed us to produce a microphone that can significantly out-perform its condenser peers.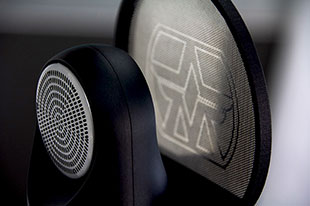 'The reason for this is one of manufacturing complexity. Condenser capsules have to be assembled by hand if they are to be any good; this is a costly business. Moving coil capsules, because of their simpler construction, are made entirely by machine. As well as meaning that manufacturing is less costly, it also means that tolerances are tighter, so every mic is guaranteed to sound the same.'
Young reports that another outcome was verification that a mic's perceived performance varies on different sources. 'In other words, one mic does not fit all,' he says. 'For this reason, we always suggest that it's a great idea to have a couple of different mics in your cupboard to choose from. Our aim, with Element, is not to say "Element is the best mic", that's silly because these things are very subjective. Our aim was to ensure that our entry-level mic has the best possible sound, performance and quality, and that it comes with the best accessories possible for people who only have the budget for one mic, or want to add a new, high-performance mic to their collection, without having to spend a fortune.
'Not only is Element extremely affordable, but it will consistently outperform all mics in its class,' he adds. 'This is something that you really don't have to take our word for, because 4,000 customers from all across the world have helped us to define the sound of Element in peer-reviewed blind listening tests against the biggest brands in the business. Combine this with all the cool accessories and it's got to be your number one choice as a first studio mic, or to add to your collection.'
Aston Element with its Ridyon capsule technology ships with a custom shockmount and pop shield for £159/€179/US$199 MRP.
More: www.astonmics.com