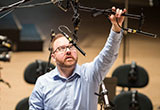 A native of Canada, Jeremy Tusz's introduction to Merging Technologies' Pyramix workstation was unsurprisingly through his time at McGill University, followed by subsequent Merging encounters around Europe, including at Polyhymnia in the Netherlands and Galaxy Studios in Belgium.
After returning to Canada and freelancing as an engineer/editor/producer on more than 100 albums, he began assembling his own gear…
Having tried Merging's Horus interface on a session, he invested in a Horus fitted with 32 input and eight output channels and two laptops running Pyramix Native. As I/O demands increased for larger orchestral film score work and clients began asking for DXD/DSD capabilities, a Hapi was added along with a PT64 card (for interfacing with a Pro Tools HD Native system) to mix-and-match according to the session requirements.
In 2015, the opportunity to join the Milwaukee Symphony Orchestra as staff audio producer presented itself and Tusz ensured that the symphony was equipped with enough Merging gear for most eventualities, freeing his personal equipment for freelance work.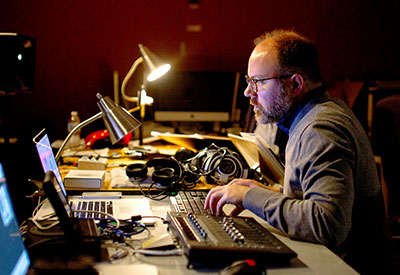 Now, in 2020, construction of the MSO's new Bradley Symphony Center is well underway and includes more comprehensive facilities for recording not only the orchestra, but a small studio for interviews and podcasts. However, for now the latest addition to the Merging family of products is the Anubis and this has been something of a revelation.
Tusz's first impression of Anubis was 'a neat little box' but it proved quickly to be much more: 'I certainly didn't think it would completely change the way I think about my remote set-ups. It has added new value to my Horus and Hapi. Now I think of every input and output as a source or a cue or a monitor. It has brought more capabilities and efficiencies to remote sessions.'
In addition to the expandability of the Merging family that has been demonstrated many times over the last six years, other notable benefits that have become apparent: 'Reliability. I always run a backup, but in the past five years I have never had to use it.
'Robustness. My gear has been shipped on pallets, travelled on roughly 30 flights as checked baggage – and we know how baggage handlers treat equipment – and has been dropped from high enough to bend the front panel of the Horus, but it still works.'
'Configurability. I can have 48 channels on stage and surround monitoring in the booth, or 16 channels in the catwalk, 32 on stage, and stereo in the booth. Or for a smaller chamber recording 16 channels in a Hapi on stage and stereo in the booth with the Anubis. The kit can scale to whatever the situation requires. This cuts down on the length of analog cable runs, size and weight of the kit, baggage fees, etc.
'Workflow. Everyone always talks about specs, and Merging gear certainly has great specs, but a great sounding recording isn't made with specs alone. Being able to control and recall preamps from the software, peak log and great metering to check levels, amazing file management, means more time to spend positioning microphones, and less time that the musicians have to stand around waiting. In sessions, especially orchestral sessions, time is your greatest enemy.'
After working with the Anubis for a while, Jeremy amplifies his comments: 'I have mostly been using it at my home studio for monitor control, but last week I used it on an orchestral session with a tenor soloist and it was incredibly versatile. We had monitors and three headphone feeds in the control room, talkback to the orchestra, a footswitch controlled closed talkback to the conductor's earpiece, headphones on stage for the tenor so that we could playback what he had just recorded. We had two Pyramix machines as sources and also live microphones (the main pair) as sources so that the producer could continue conversations with the conductor while I was cueing up a take for playback.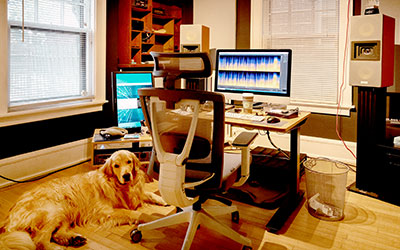 'And then there are the little details that make all the difference. The ability to name all of your sources, monitors, headphones as something meaningful to the users who are often not engineers – our headphones were named Denise, Brian, Marc, David, and Jeremy. And a further convenience was being able to control all of these features from the laptop without bothering the producer who had control of the physical device. In the future I will be adding a tablet to the mix.
'This is truly impressive. The Anubis, along with my Hapi, has taken the place of a Cranesong Avocet, SPL surround monitor control, Benchmark DAC-1, and DirectOut producer.com, and it is far more powerful and configurable than all of them combined. It's also way smaller and I've been able to remove a road case from my kit which reduces shipping and extra baggage costs.'
Covid-19 has seen live performances cancelled in concert halls and other public places. Tusz was asked at the very last minute if it would be possible to livestream a concert without audience and this was done very simply.
'All I did was plug a laptop into the switch, download the Mixlr app, and route everything in Aneman. With the Anubis I was able to switch between the outputs of my two recording machines, the send to the livestream machine, and the return stream. Once again, Anubis to the rescue.'
The prospect of an extended period of cancelled performances provides opportunities to be inventive and to come up with alternative projects. There is the current WFMT radio season which will likely need to be filled out with historic recordings, but the Milwaukee Symphony has also started a new weekly podcast hosted by its music director Ken-David Masur, and just released a virtual performance video of Elgar's Nimrod.
More: www.merging.com