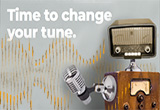 The recent ABTT Show at Alexandra Palace saw Autograph Sales & Installations launch its Time To Change Your Tune initiative ahead of the forthcoming 700MHz frequency spectrum clearance.
Post-show, and with the Wireless Willy mascot on point, F&W spoke to Director Duncan Bell and Technical Sales Manager Chris Austin to find out what will going to happen, how it will affect pro wireless users and how the initiative can assist them.
First, some background from Duncan Bell, who is on the board of The British Entertainment Industry Radio Group – BEIRG, the industry body created to represent professional wireless users: 'In 2012, the government cleared around 20 per cent of the radio spectrum, known as the 800MHz clearance, used by the entertainment industry for wireless microphones in TV programmes, film, theatre and music events. This was disruptive – as a large proportion of the industry used the 800MHz range of spectrum, and all of the equipment in this band had to be disposed of and replaced – however the process was well publicised at the time as it coincided with switching off terrestrial TV and the transition to digital.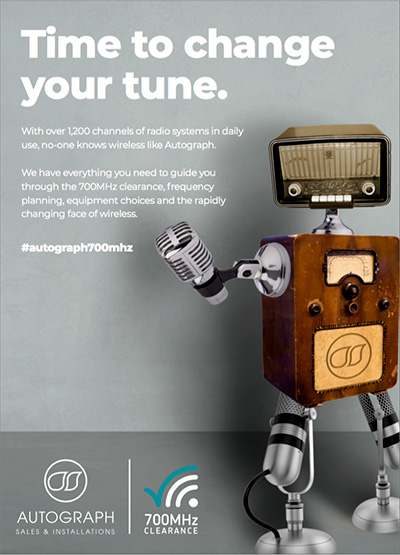 'In 2020, a further 30 per cent of this vital spectrum is being cleared – the 700MHz band – which will again require a major upheaval in how we do our work and the equipment we use. Unfortunately, the industry is much less aware of the new round of changes, which are more complicated and nuanced. For example, as a result of existing services (like digital TV) being moved and squeezed into the remaining spectrum, users of radio microphones outside of 700MHz could still find their equipment is affected.'
F&W: Compensation was made available as a result of the 2012 partial clearance, will the government offer a similar scheme this time?
Bell: 'There is likely to be a limited compensation scheme for people who need to buy new equipment, but current proposals mean not everyone affected is entitled to claim. Those that are can only benefit from this if they get their paperwork in order by certain deadlines, but these like all other details will not be known for certain until OFCom publishes its statement.'
F&W: So what exactly is the purpose of your new initiative?
Chris Austin: 'As experts in the field, we want to share our knowledge to ensure everyone is equipped with all the facts so that we can help people manage these changes as smoothly as possible. That knowledge is informed by the fact that our hire division runs over 1,200 channels of wireless simultaneously in the West End and throughout the country on our touring productions, 364 days a year.
'There is a huge volume of experience and understanding of all aspects of wireless operation available within the company as a whole - fundamentally, we are making that knowledge freely available to anyone in the UK whose operations or business is going to be affected by the 700MHz clearance.'
F&W: What type of advice and support could you provide, specifically?
Austin: 'It's in several parts, really. For a start, we can provide impartial and unbiased advice to each client, according to specific circumstances, location and application. If they are faced with the prospect of having to replace some or all of their equipment then the same impartiality will be applied in terms of recommending systems and components which are best suited to their use and budgets. Finally we provide full technical support and backup (including frequency planning, system configuration and commissioning where necessary) both pre- and post-sale.
'We're also in the unique position of being able to support this programme with the widest product portfolio of any UK reseller. We supply the complete ranges of wireless systems from Shure, Sennheiser and Sony, plus a huge range of microphone choices from Countryman, DPA, Point Source Audio and Sennheiser, and at a time when the choice of radio systems on the market is at its widest ever, we can advise, explain and demonstrate the technical features and pros and cons of each of them
'As soon as OFCom has published its intentions regarding compensation and the qualifying criteria, we will also be able to assist with compliance where possible – in fact, a dedicated micro-site will be accessible from our own website, which will contain all the relevant data and be updated as information arrives. We're also planning a series of workshops to cover all aspects of the spectrum clearance and what it means to pro users.'
More: www.autographsales.co.uk