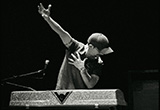 'They flew me to Nashville for a month, put me up at the Vanderbilt Hotel and we recorded at the famous Woodlands Studio. There were days when I went in and didn't do anything. I played the Carol King Tapestry piano on that record. But then there were fewer and fewer gigs like that…
'Studios were closing, budgets and record deals were going away. People were still making records, but they were doing it in their basement on a computer.'
John Ginty is recalling his contribution to Ryan Adams' 1997 Whiskeytown album. 'It was one of the first big records I played keyboards on when I entered the music business,' he says. 'I was doing maybe ten-to-12 records a year back then. But later, instead of getting a week at the studio, artists would get one day, and just try to crush it in there. Instead of coming in for a month and taking my time, it became, "Okay, we're going to cut all the tracks without you, and then you can come in for one day and record all the keyboards for the entire record".'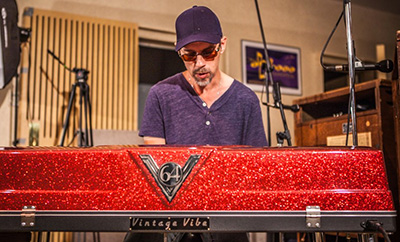 With four award-winning albums to his credit, Ginty's songs have graced the charts of both Billboard and the Roots Music Report.
In addition, his mastery of the Hammond organ and electric piano has seen him working with the likes of Santana, Robert Randolph, Citizen Cope, Matthew Sweet, Jewel, Smashing Pumpkins and the freshly reformed Dixie Chicks – both in the recording studio and live on stage.
While some touring and session work remains, the changing landscape of music recording has seen him recording keyboard parts for artists from his home.
'I figured it out – I bought a Pro Tools rig, I bought a computer, and then I got a bunch of old gear, an old console, some old microphones,' he says. 'I have a B3, a real acoustic piano, my Vintage Vibe piano, a Clavinet and a couple synths in my studio. The artist emails sessions to me with a Dropbox link, and I take my finished Pro Tools files and I put them in another Dropbox and we're done. Then they send a PayPal payment. It's a totally different business, but happily I was able to adapt to it.'
Today he reckons to do something between 25 and 30 records each year in this manner, and there's no shortage of top-tier talent seeking his energetic style of playing. 'I'm recording in my own studio for big projects like Los Lonely Boys and Bob Schneider,' he confirms. 'I've done some big stuff right out of the basement – I don't even put shoes on.
Even with this new working model, his energetic, traditional rock keys playing remains central to Ginty's enduring popularity as a player. The Hammond B3 is an essential ingredient in this, but the familiar Fender Rhodes and Wurlitzer electric pianos have given way to the Vintage Vibe Electric Piano.
Specialising in the repair and restoration of electro-mechanical keyboards and the only manufacturer of a complete line of replacement parts for Rhodes and Wurlitzer pianos, and Hohner Clavinets, Vintage Vibe began manufacturing its own electro- piano designs in 2009 – the Vintage Vibe Piano and the Vibanet. Modern takes on Rhodes and Clavinet keyboards, these feature improved performance, reduced weight and sleek new looks.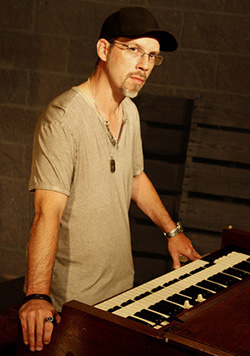 'I don't really play a lot of synths,' Ginty admits. 'I'm a piano-and-organ kind of guy. I've done at least 20 records that feature the Vintage Vibe, because it's here at my fingertips ready to play as I decide on parts for a song. Usually you buy something from the 1960s and have to fix it at every gig. It's hard to keep an old Rhodes tuned, and really hard to keep it working. That's not the case with the Vintage Vibe – from the first time I gigged it, it was awesome. Some of the artists are even mentioning Vintage Vibe along with my name on record credits, because it's such a unique sound. My clients are loving it.'
In fact, the Vintage Vibe piano has become as important as the B3 for recording tracks. Comparing the action to an old Rhodes, Ginty says: 'It's actually the best part of the instrument; if I really lean on the Vintage Vibe, I can get it to bark like a Wurlitzer. And if I barely touch it, I can have it sound really creamy – like an early '70s Fender Rhodes.
'If I put the stereo tremolo on, I can make it sound like a Suitcase Rhodes. And where Vintage Vibe is unique, where Rhodes actually fail you is the last ten notes on the high end of the piano. They just kind of go doink – they don't really make a tone. A Vintage Vibe will chime all the way up to the highest note. It rings out. I barely touch it in the upper octaves and it sounds like a little music box or a little toy piano. Listen to the Dixie Chicks recent live recording of 'Landslide' and you'll hear it.
'You can't get the same thing from synths or from sampling keyboards, even if they have weighted keys or velocity-sensitive touch to them. Just the fact that it's all in how the player works the piano as to how it responds. And so no two guys really sound alike on Vintage Vibe Pianos, which is really neat. I lean into it. I learned how to play on an old 50-year-old Knabe baby grand – I hit keys really hard – and so I make that sound like me. And other guys, who are more classically trained or whatever, make the Vintage Vibe sound like something totally different. And then they put the Vintage Vibe in front of Stevie Wonder and he makes it sound like Stevie. The piano really adopts the character of the player.'
Ginty was pleasantly surprised after a recording session for The Courtyard Hounds project – made up of Martie Maguire and Emily Strayer from the Dixie Chicks – when they asked him to tour the world with their reformed band featuring modern song arrangements that rocked.
'The first thing they wanted to do when we came in to rehearse was to rock,' he reveals. 'They weren't really interested in playing country music; there was no pedal steel player in the band. We sort of took the approach of the Heartbreakers. So that was right up my alley. It was Hammond B3 and Vintage Vibe Electric Piano that I played on the majority of the gigs. It's a wonderful job.'
On a 100-date world tour with Courtyard Hounds over the past two years Ginty shipped his custom white Vintage Vibe piano to Australia, New Zealand, and all over Europe. 'It was on boats. It was in the belly of a 747. It went through all different types of climates. It came home and it was 100 per cent in tune. I just can't say enough about the piano Vintage Vibe makes. It's so solid and it's just great for guys like me that are old-school keyboard heads.'
Next up for John Ginty and the Dixie Chicks is a charity performance at the Mack, Jack & McConaughey Gala on 12 April at Austin City Limits. The concert benefits organisations dedicated to children's education, health and wellness. Meanwhile, he is working on music for his next album and planning to tour with his latest band in support.