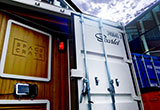 The now familiar shipping container dates to the 1830s and the inspiration of American trucker Malcom McLean. In the intervening years, it has become an international standard for modular commercial transportation, provided building site ameneties, and spawned the 'cargotecture' behind pop-up shops and restaurants.
Now, the humble yet versatile shipping container has won itself a major part in the making of a forthcoming Hollywood blockbuster.
'Our aim is to combine the useful attributes of a professional recording space and a shipping container – the container is something that's cheap and strong, and born to move around the world, and the studio is somewhere you can go and work to earn money.'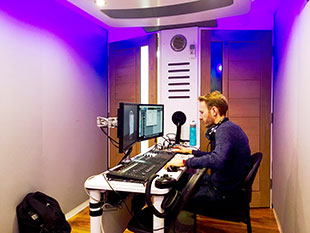 The speaker is Ben Nemes, MD of new UK company, SpaceCrate. Formerly Pro Audio Sales Manager for Avid UK, Nemes has teamed up with AKA Design founder Guy Wilson and AbsoluteCAD's Mike Watson in a business venture that threatens to revolutionise existing models of sound recording, postproduction, broadcast and beyond. The initiative reflects ongoing changes in the demands of content creation and the need for greater flexibility than static premises allow.
The background to this latest application for the ISO-spec 20ft shipping container follows its role in Christchurch's Re:Start Project – where it is the building block for a temporary shopping mall that forms part of the city's recovery from the 7.1 magnitude earthquake in 2010 – along with the Boxpark pop-up malls that first appeared in London 2011, the broadcast facilities set up for the 2012 Olympics in London, and dormitories at a Dutch university.
'I was in an achingly hip tea bar in Soho recently, and the toilets at the back had been made to look like a shipping container because it's cool,' Nemes adds. 'I've got no desire for SpaceCrate to be simply fashionable, but this movement is happening. Maybe five years ago, it would have been regarded as outlandish and weird.
'I first started thinking about containers in this way because of the growth of the pop-up concept, he continues. His taste for expensive coffee and background in building postproduction and recording studios, along with his time at Avid, appear to have made the connection all but inevitable.
'Just because there aren't lots of major recording studios any more doesn't mean it's all bedrooms,' he contends. 'It's not true to say that we've gone from Abbey Road to a bedroom – there's massive ground in the middle and that tier is very relevant to SpaceCrate. There are people who just don't want to get involved with contractors of various types – whether it's pouring cement, or working on air conditioning or acoustics. And the outcome is often by no means guaranteed. If you're self-employed in the creative field, time is very much money.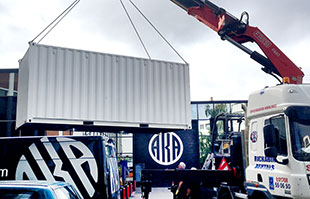 'I think that's a big enough strip of people that what we're doing is relevant.
'With SpaceCrate, we can guarantee the outcome of the build. If you like how it sounds or if you want to work on music late at night at 90dB without anyone hearing you, that's exactly what you're going to get. If we set a delivery date two months off, in that intervening period you carry on being productive and earning your daily rate.
'Then there are socio-economical factors. The average Brit moves house eight times in their life – twice before they're 18 and then six times as an adult – six times in their career. The chances are that you're going to move house within the next ten years, so any investment you make in building that studio at home you're going to have to make again.
'That doesn't reflect whether you own or rent. Time was when you owned your house and your business rented its premises. Maybe it will become that you rent your house and your business entity owns its premises – I'm saying that this studio asset that you own and do your job in now goes with you when you move.
'And if you don't want it any more, it is an asset that you can sell. If you don't use it for six months because you're travelling, you can depot store it the way a shipping company does – when the doors shut, it's wind- and watertight so it sits there not gathering dust. And it's ludicrously cheap.'
Sound and Space
With the thinking behind SpaceCrate on the table, the concept stands or falls on the practicalities and technicalities of actually putting a hi-tech, environmentally sensitive installation inside an unforgiving steel box measuring approximately six by two metres.
'As a building block in civil engineering, they are every bit as strong as stipulated by building regs anywhere in the world – so you immediately bypass that,' Nemes begins.
'The acoustics were the hardest bit – making it a nice place to work aesthetically, and a nice sounding place to work as well as being an accurate place to work,' he confesses.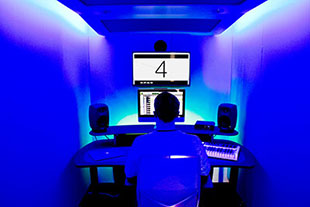 'The minute you put time and effort into isolation, which we had to of course, you're trapping all that energy in the room, which means you have to deal with it. Of the year we spent in R&D, five or six months of it went on the acoustic side. When you start to measure it, you start understanding where your room modes are and where the container dimensions trigger room modes.'
Where the expertise became too specialised for the SpaceCrate team, they called it in from outside.
'We worked with some very good acousticians including Chris Walls and Tim Coombes from Level Acoustic Design – who has just done Abbey Road's new Gatehouse – and Howard Turner from Studio Wizard, to find acoustic treatment that addressed the issues that we had,' Nemes elaborates. 'With the proviso that we retained enough working space within the container, we needed to achieve acoustic control without throwing a lot of dimension at it. I'm overwhelmed by some of the science, physics and ingenuity that went into getting it.
'It was an iterative process of intellect plus effort that resulted in losing as little as possible space and yet getting to an RT30 figure [guided by EBU Tech 3276] that made a comfortable working environment. We haven't done a lab conditions measurement of the isolation as yet but we have been able to play music louder than I'd want to be in there – on a meter it's 85-90dBA – and when you shut the door you can't hear it.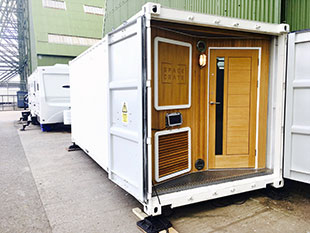 'Everything we did added mass,' he elaborates. 'These things can be up to 30 tons; we've about doubled the weight of it empty at five tons. We didn't lose a lot of physical space but we've put in a lot of mass.
'It is a combination of time-honoured principles – decouple and add mass. 'We found some dense, adjustable rubber feet, so we also floated our room. You couldn't do that to a building, but we've been able to do that.
'Because we built it outside on an industrial estate in London, we had a train line, helicopter noise and so on around us; we were able to keep refining it until we couldn't hear that any more and then stopped. If that's not enough isolation for you, you're going to have to start from the outside. If you want to cover it in theatre curtains or bury it, then you can.
'To some the architecture is quite hip, but not everyone likes the look of a shipping container. Some families won't appreciate having a 20-ft steel box in the back garden, and one potential customer does want to bury it. The thinking is to hire a JCB and somewhat, or totally, bury it. It will be out of sight but can be dug up if you move.'
Inside and Outside the Box
Announced in the summer of 2016, SpaceCrate made its worldwide public debut at the 2017 Media Production Show. With a familiar exterior, its reception relied heavily on its studio credentials. Taking 16A mains power from the outside world and offering custom audio/video/data/comms through a access panel, it can operate totally independently or become part of a greater infrastructure.
'It was important that, the moment the steel doors open, the container goes away,' Nemes says. 'It's a mood thing – you might not be into the idea of working inside a container and have understandable preconceptions of how it would be inside, so we wanted you to instantly know it's not a container any more. The exoskeleton is important in moving it around and providing structural strength, up until it's on the ground and the doors are open, then it's an irrelevance. Inside it looks and smells like a studio.
'In terms of the access panel, it's very modular. The connectivity it provides, beyond the obvious CEEform connector [IEC 60309] for power, can be whatever flavour is needed for any given use-case. We've populated it with XLR, BNC, Ethernet and fibre I/O panels as an example.'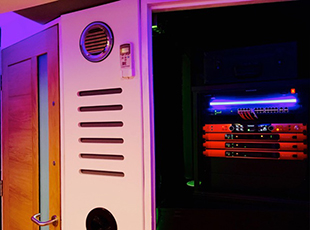 And the result? 'I got "oh dude, that's awesome", but more importantly also "that would address a lot of problems".
'The design had been about a year in the making before we took it to the trade show. After that it went on a six/seven week engagement on a major
Hollywood film – a huge and expensive production, the schedules for which had gone a bit sideways – as a soundproofed, air conditioned and acoustically treated ADR studio. They decided to compress their production time factor by saying, "if we've got all this talent in one place for a finite time, let's shoot a bunch of stuff, write some more script and, after we've wrapped that, rather than calling them back in three months' time to re-record dialogue that's been compromised on set, let's keep them in character, in the same costume and do the ADR on set. Which they did.
'This was our one-and-only SpaceCrate but the film company had heard about it. So for six weeks they put an ADR recording rig, Pro Tools rack, couple of mics, operator, director and the actor in it, and re-recorded the dialogues for everything they'd shot, and returned to stuff they shot on a previous outing and did ADR for that.
'When the film wrapped, they handed over fresh scenes and re-recorded scenes with the ADR covered. And the postproduction supervisor is looking at her workload and saying, "I've got no ADR to do". Normally this is where the headaches start – finding out where everyone is, negotiating with competing film companies to get actors released for a day.
'So SpaceCrate has done its first full-on job – which was a little scary because, if it had not worked, it would have not worked in a very high-profile way. The cast and crew loved it and we will never know how much money it saved because that spreadsheet will never exist. And that could be anything...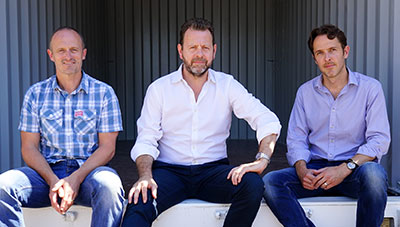 'Really, that speaks to flexibility – people being able to work more cleverly and with more agility than previously. Whether that's filmmaking, television, music recording, broadcasting, podcasting, pre-mixing or whatever, what we're saying is that we can provide that studio facility which is very specific and hi-tech and all you've got to do is get it to wherever you need to be.
'With that, you can say yes to more things, instead of which studio are we going to use, where is it, when is it available… How we extrapolate that out into other applications is very much in the eye of the beholder.'
Currently there is only one SpaceCrate. As well as serving as a demo unit, it is also being hired. 'We're talking to rental companies about owning SpaceCrates to rent out,' Nemes reports. 'We're also talking to a number of companies about adding space to expand their facilities and using SpaceCrate as the building blocks to do that. And to some individuals about their own studio needs.
'The early rentals work as a word-of-mouth thing, and that's great because we're making friends on every project. That happened with the film shoot; we have actors and techs moving on to new projects and talking up how this one was done.'
Expect to hear more about it when the wraps come off the movie very soon.
More: www.spacecrate.co.uk