Adlib has appointed Tony Griffiths as Head of Special Projects.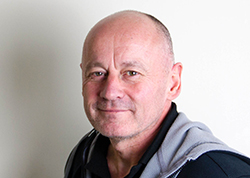 He will be based at Adlib's HQ with a scope of work that will include expanding the potential for business in all these specialist areas reflecting a steady growth in installations and technical consultancy market.
A well-known industry figure with extensive knowledge in theatrical mechanical engineering, Griffiths brings a focus on this specific area, plus a diverse knowledge in acoustic treatments and solutions with the additional experience in fabrics for performance, production and installations.
'Tony is a perfect complement to the team, bringing expertise, experience and an impressive array of contacts in these multiple dedicated fields which will sit in parallel with the audio, lighting and visual elements of our work,' says Adlib Director John Hughes.
With an industry career dating back 27 years, Griffiths has worked with the likes AS Green, Harkness Hall (now Harkness Screens and Hall Stage), PCM and most recently fabric specialist J&C Joel where he was a director for eight of his 12 years there. His experience encompasses hardcore engineering technologies like counterweights, pilewind winches, stage revolves, orchestra lifts, power flying, safety curtains, electric chain hoists, trussing, structural factors, together with the nuances of acoustic drapes, banners, projection screens and curtain tracking systems. He also has a Master's Degree in Management and NVQ Level 5 in operational management and CAD drawing and design.
'Adlib has worked hard on developing a truly collaborative atmosphere where all feel included and valued,' Griffiths comments. 'Each person understands their role, how it relates to their colleagues and the project in hand, and each supports one another to ensure that the client receives the best possible service and standards of excellence'.
'I really wanted to be part of that process, having seen the company grow across vertical sectors and in multiple disciplines in recent years, so when the opportunity arose, it was a really easy decision to join such a proactive and progressive thinking company.'
More: www.adlib.co.uk