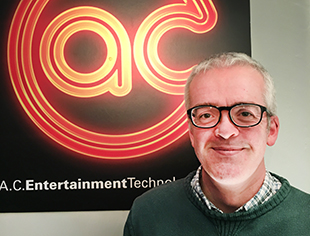 Mike Docksey has joined the AC Entertainment Technologies Ltd (AC-ET) team in a key External UK Sales role.
Well-known in the industry, Docksey brings a wealth of experience to the company. He spent many years touring with live events around the globe, before joining the HSL Group in 2005 as part of the projects team. He then enjoyed almost ten years at HSL before moving to Adlib, as head of their Lighting and Video departments.
'I've been a customer and friend of AC-ET for many years now, and it's great to be joining the team,' Docksey says. 'I have toured extensively and worked in the production and rental sides of the industry. With all this experience I feel that I am able to fully understand the needs of a buyer and this experience is vital to the next stage of growth for AC-ET. Developing relationships and trust with your client base is key to success and this, I feel, is exactly where I am able to excel. There are plenty of opportunities to explore.'
'Mike's knowledge, enthusiasm and contacts will be a huge asset to us,' says AC-ET Sales & Purchasing Director, Jonathan Walters. 'His background means he'll be able to understand exactly what AC-ET customers are looking for and explain the full range of products we supply, whether that's Lighting, Rigging, Audio, Video or Cabling and other consumables.'
Docksey will be based primarily in the North of England, although he is expected to cover customers nationwide.
More: www.ac-et.com