Al or 'Big Al' Mouat has joined the Adlib Sales team as part of a planned expansion of Adlib's Sales division that also includes the recent addition of Harry Brown who will be assisting with all levels of sales support and aftercare.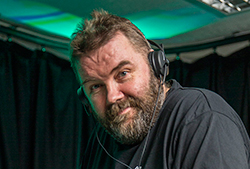 'We intend to raise the profile of the sales division, expand the client base and generally make people more aware of the many services that Adlib can offer for installations and other sales related projects – from complete turnkey solutions to specialist audio, lighting and A/V designs,' says Adlib Director, John Hughes. 'We're extremely excited to have someone of Al's calibre onboard. His can-do personality is a perfect match for us'.
Now based at the company's Liverpool HQ, Mouat is from Edinburgh and brings a wealth of practical and political experience as a production, tour and stage manager, which includes extensive knowledge of radio frequencies, touring packages and the administration required to co-ordinate these for bands and touring artists. His CV also includes working with a wealth of US heavy metal bands, a demanding world that requires solid communication skills as well as sharp technical acumen.
Having been the go-to person for sound engineers and touring personnel for much of his career, Adlib wanted to harness that potential and knowledge plus the long-term relationships that Mouat has established, all of which fit with Adlib's goal to deliver world class standards and excellent after-sales support. He first met Adlib director Dave Kay while working on the road for the Scissor Sisters, and has also worked with MD Andy Dockerty and Graham Cochrane, who heads up Adlib's Scottish office, on their work with Texas and other acts. Having known the company and key people for some time, he always appreciated their people-focused approach.
Mouat also observes that Adlib is universally popular and respected, with a reputation for excellent kit and crew – a fundamental reason to join the team: 'It's all about personal relationships, connecting with people and assisting them with challenges and interesting scenarios in a context they understand and feel comfortable with.'
He will also continue to develop the relationships with Adlib's key brands, including L-Acoustics, Coda Audio, Soundcraft, DiGiCo, Midas, Yamaha, Sennheiser and Shure on the audio side, and Martin by Harman, Robe Lighting, Clay Paky, MA Lighting, Avolites, Panasonic and many more for lighting and visuals.
More: www.adlib.co.uk