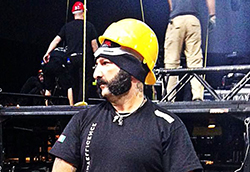 Italian sound systems specialist Outline has created the new position of WorldwideApplication Engineer and GTO Network Manager, to be held by Vincent 'Vinnie' Perreux.
Beginning his professional career in central France as a theatre sound technician, Perreux subsequently racked up almost 20 years' touring with major PA companies, around the globe, with duties spanning PA manager to FOH babysitter and crew chief. In the past three years, he has collaborated with a worldwide corporate group as Trainer, Training Trainers, Field Support & Application Engineer.
Perreux has worked in many roles with some of the world's top touring companies and their clients, including U2, Muse, Justin Timberlake, Smashing Pumpkins, Leonard Cohen, Gloria Estefan, Beyoncé, Green Day, Michael Jackson and Elton John. Now he will play a leading role in asserting Outline's role on the global pro audio market.
'I'm so glad to be part of the Outline Team for many reasons', he says. 'The main one regards all the technology Outline has developed from the past to now, which is just amazing. Another is to work with a lovely creative high-tech factory crew... and yet another good reason, but definitely not the last, is to provide the opportunity across the audio market for a professional response to what so many users are looking for. I'm the new kid on the block in Flero, but I feel ready to bring all those racks and stacks in clients' front doors. I can't wait to see their eyes as soon we switch on. Watch out, I'm in Mission.'
More: www.outline.it