Tannoy, Lab.gruppen, Lake and White Acoustics have made changes to the organisational structure within their Marketing and Product Management, as well as establishing a new department dedicated to application assistance and education across all brands.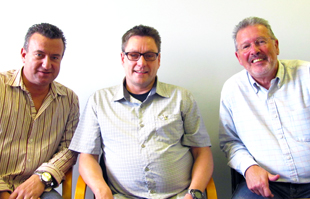 Under the new structure, Michael Munch becomes VP of Product Management across the Installation, Touring and Residential market verticals. He joined TC Electronic in 2004 before moving to Lab.gruppen in 2006, where he enjoyed great success as Head of Product Management at Lab.gruppen and Lake. This new role will allow him to coordinate the power of Tannoy, Lab.gruppen and Lake's resources to form a stronger team, with overall Product Management responsibility of the Tannoy, Lab.gruppen, Lake and White Acoustics brands.
Elsewhere, Tim Chapman has been appointed VP of Marketing across all the Installation and Touring brands, covering the management of all marketing functions and personnel based in Coatbridge for Tannoy, Lab.gruppen, Lake and White Acoustics. With a long career in audio including marketing roles at Meyer Sound, Crest Audio, Turbosound and a consultancy for EAW, he joined the TC Group five years ago as Head of Marketing for Lab.gruppen and (latterly) Lake.
As part of the group's continuing efforts to increase overall support to customers, a new department has been formed to provide customer-facing technical and applications assistance in the Installation and Touring markets. This new Application, Engineering & Training (AET) group will cover issues such as design advice, consultant liaison, onsite commissioning, product training, general education programmes, customer outreach, trade show presentations, and webinars and seminars. Having spent the best part of 20 years with the company, Tannoy's Graham Hendry will head up the AET group, working across the Tannoy, Lab.gruppen, Lake and White Acoustics brands.
On the Sales side, TC Group has appointed Carsten Ishøy as VP of Sales for Installed Sound. He joined the company as VP of Sales in the HD market in January 2011, preparing the new opportunity to optimise sales channels as well as taking important and necessary initiatives towards strengthening and solidifying visibility and position in the Install market.
'We are delighted to announce these new appointments across the board,' says Tannoy Managing Director, Andrzej Sosna [who is also in overall charge of the new VPs of Marketing, Product Management and the AET group]. 'The collective experience of the individuals will greatly enhance the capability, both internally and externally, of the Tannoy, Lab.gruppen, Lake and White Acoustic brands. Bringing the brands together like this will also allow us to utilise the expertise we have across the departments, providing us with a wider knowledge base and synchronised approach to both the touring and install markets.'