Bruno Hochstrasser returns to Studer as General Manager, reporting to Andy Trott, VP and General Manager, Mixing and Microphones & Headphones.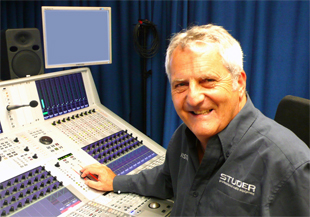 Hochstrasser originally joined Studer in 1971 and was instrumental in Studer's success in the high-quality, recording studio tape machine market, with iconic models like the A800 (he was product manager for its launch in 1978), among many others.
In 1990, he became President of Studer, guiding the company's reinvention into a digital mixing console specialist following the demise of tape. Less than two years ago, he decided to go into semi-retirement but remained connected with the company as a brand ambassador, mainly in the Middle East, Africa and Europe.
'Bruno is today's Mister Studer,' says Trott, 'He has remained proud and loyal to Studer for more than 40 years and I'm delighted he has been tempted out of retirement. We are facing a fascinating new era as we rejuvenate Studer with new staff and the development of groundbreaking technologies, and this will require an experienced hand on the wheel. Bruno is liked and respected by our staff, distributors and customers alike, and I can't think of anyone better to do the job.'
Studer recently launched the biggest recruitment campaign of the past ten years, and is expanding its R&D, Sales and Service teams, already resulting in appointments in the US, UK, Australasia, South America and Asia. In June, Studer launched its biggest education programme – the SBA (Studer Broadcast Academy) provides certification training for freelancers, staff engineers and system integrators worldwide, starting in the UK with courses run in the factory and via the 73-ft-long Studer broadcast truck in the US. A European programme is expected to start in the autumn.
'For the past 40 years, Studer has been my life,' adds Hochstrasser. 'I've seen it grow and reinvent itself and emerge as the best digital broadcast console business in the world today. The broadcast market is such an exciting place to be at the moment with so many changes presenting new opportunities for us manufacturers; we have some challenges ahead, but with our renewed investment in bright new people and some amazing new technology developments underway I truly believe we are at the start of a bright new beginning.'
More: www.studer.ch