Neutrik UK has appointed Jason Rajack to the position of Business Development, Industrial, 'recognising the Neutrik Group's strategic commitment to expanding market penetration for its signal, data and power connector products beyond its traditional core A/V media and broadcast sectors'.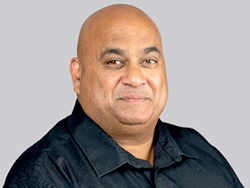 Rajack brings more than 25 years' experience in business development, sales and project management to the position, with a track record in innovating product design and applications, expanding diverse global markets, strategic planning and engaging customers globally'
'Jason's extensive experience in the wider connectivity market will serve to further accelerate the growth of our customer base beyond our core A/V and broadcast applications base, meeting specific requirements across wider industrial manufacturing sectors,' says Sales Manager, Karl Cowing.
'His comprehensive knowledge and understanding of applications, and ability to work closely in providing solutions specifically aligned to customers' goals provides a dedicated level of support, advancing the presence of the Neutrik Group within wider industrial service and manufacturing sectors.'
Rajack's resumé encompasses senior sales, sales engineer, business development and market management positions with Dehn UK, LPA Group – LPA Connections Systems division, Stäubli Electrical Connectors, Acal Radiatron and TE Connectivity.
More: www.neutrik.co.uk