Clear-Com has added Calvin Long to its Applications Engineering team.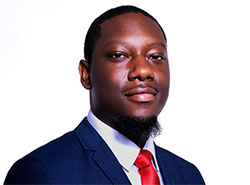 Long is based in Tallahassee, Florida, and has a Bachelor of Arts from Florida A&M University, majoring in Music Industry. He brings industry experience and knowledge, with a focus on remote and hybrid broadcast operations from his time at Black News Channel (BNC) as Broadcast Manager of Operations for the live news channel.
Long was a first-hand Clear-Com user in his previous role, configuring the intercom system to enable remote and hybrid broadcast workflows for the anchors, production team and engineers.
'With our customers increasingly moving to an IP-based workflow with both hybrid and remote operations, it's especially important to bring on board Applications Engineers who have the kind of real-world AoIP experience that Calvin brings to the role,' says Applications Engineer Manager, Justin Emge. 'Calvin's enthusiasm for wanting to make a difference and support our users is a quality we value; we're delighted to have him join our team.'
Long was one of the primary points of contact with Clear-Com in his last role and has both a working knowledge of the technology as a user, as well as familiarity with the company's support team.
'I experienced first-hand the vast range of adaptability and scalability that Clear-Com products offer to their users,' he says. 'Clear-Com gives every end-user the power to control their system, no matter their level of knowledge – I'm thrilled to be a part of the team that empowers users with market-leading communication solutions and support, as well as being one of the people that our users can count on to help keep their show running smoothly.'
More: www.clearcom.com