AVL Media Group, has appointed Jay Perry to the position of Audio Product Technical Support Specialist.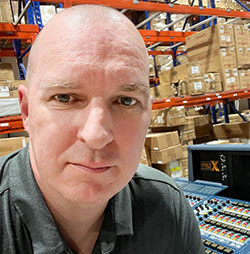 The North American distributor of Lab Gruppen, Klark Teknik, Turbosound, Midas, Tannoy, Zero-Ohm Systems and Spotlight has given Perry wresponsibility for working with consultants, designers, dealers and integrators in Canada and the US, supporting all of its AVL professional brands.
An industry veteran known for his passion for technology and client support, Perry comes to AVL from Points East Audio Visual, where he was owner and chief consultant. The company specialised in design, sales and installation of professional audio, video and lighting systems throughout the Atlantic Canada region.
'I love diving in headfirst to solve client problems and solve them with creativity using the best brands available,' Perry says. 'I've known Steve and Andrew for many years and have watched AVL grow into one of the premier distributors in North America. Needless to say, I am very happy to be onboard.'
'Each time we add to our team, we bring more talent and strength to the company than we had before,' says AVL Media Group CEO and founder, Stephen Kosters. 'Jay comes with a wide range of skills and can work comfortably within all divisions of a project. He has the expertise to ensure our customer's needs come first.'
More: www.avlmediagroup.com