LEA Professional has appointed Nick Mourn as Application Engineering & Consultant Relations Manager.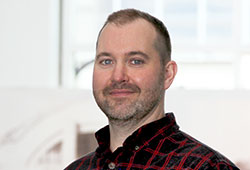 The appointment further increases the company's resource of in-house knowledge and expertise. In his new role, Mourn will work closely with the LEA Professional channel to manage customer feedback and provide application and design support for its Connect Series range of amplifiers.
'I watched the staggering growth of LEA Professional from afar, so I was delighted to have the opportunity to be part of this incredibly innovative company, with products that have truly revolutionised the industry,' Mourn says.
'Seeing what it has already accomplished in a short time is incredible, and I look forward to introducing future customers to the "LEA way" and showcasing what the technology can achieve."
Prior to joining LEA, Mourn worked as a product application specialist for Harman Professional. He has more than 20 years of experience in the live production audio industry, with a background in touring and several stints in national and regional sound companies.
'Attracting talent such as Nick is a testament to the offering we provide at LEA Professional,' says LEA Professional VP of Marketing, Brian Pickowitz. 'With his extensive industry experience and his understanding of the challenges faced by integrators, we are confident that all our customers will be very well served with Nick at the helm.'