Powersoft has recruited three new employees at its US office in Flanders, New Jersey – Peter Robinson as Consultant Liaison, Evelyn Caruso as Inside Sales Coordinator, and Zach Wenzler as Solutions Engineer.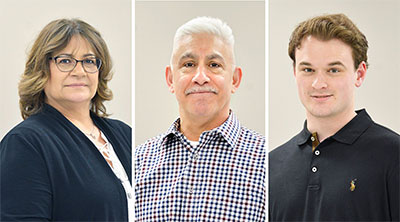 Robinson's industry experience includes more than 25 years as a system integrator and loudspeaker designer. In his new role, he will provide oversight and management for larg- scale projects, and also assist consultants, architects, engineers and end-users, coordinating the efforts of Powersoft's solutions engineering team.
Robinson previously worked alongside Powersoft US General Manager, Tom Knesel: 'We worked closely together in the past to achieve our goals as a team,' he says. ' I am convinced Powersoft is the number one brand of amplifiers in the world. The engineering considerations are world class and the DSP is best in class.'
Caruso brings more than 20 years' experience in industrial sales support, distribution and manufacturing to her newly created position, which sees her responsible for the coordination and execution of sales and customer support, as well as assisting the US sales team with forecasting reports.
Wenzler has 'a particular flare for circuits design and structural analysis', and aims to bring new ideas and innovation to help improve Powersoft's approach to technical support. 'I salute Powersoft's approach to trust young individuals to keep the company growing and thriving in current and new markets,' he says. 'To be a part of a growing company is an honour, especially when it comes to being one of the first engineers in the US location.
Powersoft's US presence recently saw an office relocation to better serve the company's current customer base, and allow growth of the team and of the company. Caruso, Wenzler and Robinson will be based in the new office, reporting to Tom Knesel.
'We are delighted to welcome the three new hires the US Powersoft team,' says Knesel. 'With the skills and knowledge they respectively bring to their roles, it's another exciting step for Powersoft in growing its reputation in the US.'
More: www.powersoft.com