Headstock Group has announced the appointment of James Baker as Business Development Manager for HH Professional Audio products for the UK and European markets.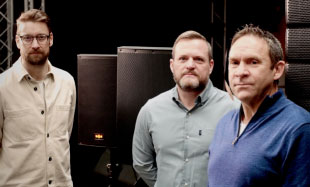 'I am extremely excited to have James join our team,' says Headstock Group Director of International Sales, Ian Wright. 'He brings a wealth of experience and excellent track record as a sales professional for key industry players such as SSE Audio, Avid Technology, and Harman. In addition to his extensive knowledge of pro audio and his expertise as a live sound engineer, James also has a clear understanding of what the market needs. As such, we believe James will be a major addition to the team, and key to the next steps in developing both sales and products for the HH brand.'
'I am delighted to be joining the HH team, the brand has a legendary history in pro audio, and I am eager to get going with the existing catalogue and to help develop new and exciting products,' Baker says.
'James is such an impressive character and a great fit for the company,' adds Headstock Group CEO, James Laney. 'We are very excited to have him join us and to help realise our long-term vision for HH products.'
More: www.hhelectronics.com