Ryan Thomas and Phil Goldsworthy have taken over UK Sales & Systems Integration leadership for SSE Audio, Wigwam Acoustics, Capital Sound and BCS Audio, as part of Solotech's UK management team.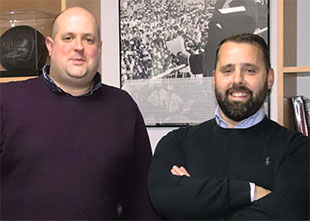 Both report to Solotech UK MD Bryce Jewell, working in close collaboration with Solotech Live Productions leaders as well as overseeing corporate functions. The appointments follow the departure of Alex Penn, who served as Sales & Systems Integration MD at SSE Audio before leaving to pursue other interests.
Goldsworthy brings more than 17 years of experience at Wigwam Acoustics and two years as the UK Group's Systems Integration Manager to his new role as Head of Systems Integration. His extensive experience, versatility and knowledge of the business are expected to guarantee success for the Division, which is seen as one of the major growth areas for the company.
Thomas will serve as Head of Sales for Solotech's UK companies. With more than 20 years' experience in various pro audio sales functions, he will continue the success he brought to his previous role as SSE Group Sales Manager. He is charged with driving growth of the Division to ensure it remains one of UK's leading sales centres for world-class A/V equipment.
'Ryan and Phil bring experience and enthusiasm to these critical new roles in our UK sales and integration business,' Jewell says. 'They have both been instrumental in helping us maintain our position as the UK's leading supplier of A/V technology. We are in a great position with Ryan and Phil as leaders of talented and crucial teams that contribute to our continued growth in the UK market.'
More: www.solotech.com