Stuart Leader has joined UK provider of audiovisual equipment, Audiologic, as Senior Sales Manager.
Beginning his career in the A/V industry during the late 1990s in internal sales for a distributor local to where he was living at the time, Leader worked mainly in the displays, video and control side of the industry for distributors and manufacturers. He moved into the audio industry in 2012, joining Polar audio.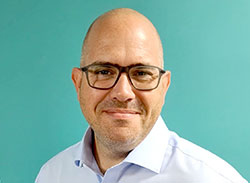 Leader's background has consistently been sales based, until 2014 when he progressed into sales management. In 2016, he joined the board at Polar, heading the integrated solutions team, leading a sales team selling AVoverIP, Audio solutions, Video distribution, control and Unified Communications.
The Senior Sales Manager role is a strategic step forward for Audiologic and will see a holistic approach to the sales function.
'We are genuinely excited for Stuart to join us, he brings a wealth of industry experience which will drive the sales function,' says Audiologic MD, Andy Lewis. 'Stuart will oversee the responsibility for the entire sales function. The role is a very strategic and focused one, which will drive Audiologic through its next growth phase. We would like to take the opportunity to congratulate Dave Smith on his retirement and say a huge thank you for his seven years of service.'
'I have observed the accelerated growth of Audiologic over the past few years, and have had great admiration for what the company has achieved. I'm delighted to be joining such a well-established and strong team and I look forward to contributing and playing my part in the building and development of the business in the future.'
More: www.audiologic.co.uk