US distributor Synthax has appointed Brittany Hilton as Broadcast Sales Manager, reporting to Derek Badala, Director of Sales for The Americas.
Key to her new role will be increasing Digigram's reach and brand awareness. Hilton will also focus on sharing how Digigram – and fellow distributed brands RME and Ferrofish – can streamline and not only broadcasting processes, but also those in hospitality, house of worship and live sound markets, as well as those working in the timely distance learning field.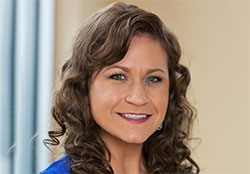 'Over the past few years, Synthax has put forth a strong focus on the future of broadcasting and how its portfolio of brands can improve broadcasters' processes,' Badala says. 'Brittany will be a very valuable team member as we continue to expose new markets across the Americas to the Synthax brands' state-of-the-art solutions. 'She is a consummate professional and has almost a decade of experience in the industry.
Hilton has worked in the broadcasting industry since 2012, spending the majority of her career in broadcast sales, most recently at the Broadcasters General Store in Ocala, Florida. Previously, she worked with Broadcast Depot as a National Account Manager, DoubleRadius as an Outside Sales Rep, and has worked lighting and sound at the House of Blues in Myrtle Beach, South Carolina. Her extensive background in the industry will help her identify appropriate products to broadcasters, allowing them to streamline processes and obtain the highest quality audio available.
'I'm so excited to join the Synthax team and use my background to introduce Digigram's broadcast solutions to new companies across the US and Latin America,' she says. 'Digigram is an amazing brand with a great team, and one that I've been lucky to work with for years now. I'm looking forward to working for this forward-thinking company and showing broadcasters all the amazing ways Digigram's solutions can improve their workflow.'
Alomngside RME, Ferrofish and Digigram, Synthax is also distributor of Appsys and myMix.
More: www.synthax.com