Royer Labs has promoted Amalia Stephenson to the position of General Manager.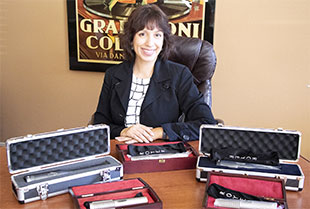 Having joined Royer Labs in 2000 as Administrative Assistant to VP of Sales & Marketing John Jennings having graduating from Berklee School of Music, Stephenson has been involved in a wide range of company operations and has a comprehensive understanding of Royer's culture and day-to-day operations. Her new position becomes effective immediately and she will continue to be based at the company's headquarters in Burbank, California.
During her time with Royer Labs, Stephenson has created all of the company's graphic content, including print and online advertisement, all promotional materials, and four versions of Royer's main website, as well as shooting and editing promotional and educational videos and setting up social media platforms. In 2018, she was made Director of Marketing. In her new position, she will handle overall office management and HR department functions, as well as continuing some involvement with the marketing team.
'As someone who has been with the company since the very early days, I'm excited to continue fostering the company's growth and passion for excellence,' Stephenson says. 'We have a unique company culture which is a direct result of the talented and dedicated Royer team. Most of us here at Royer Labs have a background in music, which I believe makes a difference in the development and quality of our products. I look forward to the challenges my new position presents, and I'm thankful to everyone at Royer for their continued confidence and support.'
'Amalia has been an integral part of Royer Labs for almost as long as we've been making microphones,' says VP of Sales & Marketing, John Jennings. 'I'll never forget asking her to draft a new advertisement the day she started, with the overall layout and direction I wanted. She created what I asked for, then gave me another completed design to consider. Hers was better. After repeating that many time, I started telling her what I was after and she'd run with it. It's worked well ever since.
'When Amalia joined company management in 2018 she exceeded our expectations, as usual, and we've come to rely on her calm, intelligent approach to whatever she takes on. We've been lucky to have her for so long and we look forward to her being in senior management for the next 21 years.'
More: www.royerlabs.com