Belgium-based pro A/V manufacturer Apex Audio has appointed Graeme Stevenson as Production Manager.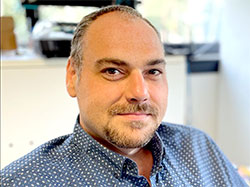 'We are seeing strong growth in demand, particularly for our CloudPower installation amplifiers and Liviau touchscreen A/V controllers,' says Apex Managing Director, Paul Van Hees.
'Graeme's experience and drive will ensure that we can scale to meet this demand while maintaining the reliability and flexibility that our customers expect from Apex. We're excited to bring Graeme onboard to strengthen our manufacturing operations.'
From the United Kingdom, Stevenson is no stranger to pro audio, having spent nine years as an audio technician with fellow Belgian company, Audac.
'Apex is an ambitious business with exciting plans for the future,' Stevenson says. 'I am looking forward to helping the comapny grow its capacity and maintain its reputation for innovative designs, excellent quality and friendly service. 'I am delighted to join the team at this key stage in the brand's development.'
All Apex products are assembled and tested at its facilities in Beringen, Belgium. The manufacturing centre is located a short distance from the company's main R&D and management hub, allowing ready collaboration between the respective teams.
More: www.apex-audio.be