Brighton-based event production and rental company Penguin Media Hire has appointed Sonny Evans as MD, coinciding with the opening of a London warehouse with 'further facilities to come in the near future'.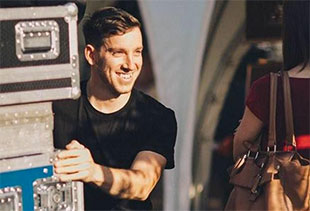 'It's been a horrendous and unpredictable time for the whole industry over the past 14-plus months, but thankfully, due to the variety of industries I work with, I've managed to keep busy both working and developing plans for the future,' Evans says. 'My philosophy from the start has always been to build strength for myself and the industry by networking and collaborating with like-minded companies. As the saying goes, we are stronger together.'
'We have worked with Sonny on a number of projects over the years, and always had a great working relationship,' says company co-founder, Dylan Thompson. 'With an exit in sight from the Covid nightmare we have all found ourselves in, now is the time to continue securing the best team for our current and future clients. Our sales and installation sector of the group, Penguin Media Solutions, is taking much more of my focus, and I can't think of anyone better to push the rental and event production side onwards.'
'We have always got on really well – we have complementary skills, the same views, outlooks, and most importantly, morals,' Evans concurs. 'Joining the Penguin family not only seems like the sensible decision, but it seems the most natural progression in continuing to build something really special, and honestly, since we first started talking about my appointment as Managing Director of Penguin Media Hire, I've been really excited about the future and can't wait to get started.'
One of the first projects Evans is undertaking is the development of the London facility – close the ExCel and able to service London clients as well as those further afield – that will house offices and warehousing, alongside training, demo and pre-production facilities, to complement the matching facilities on the UK south coast.
'We've been working with Sonny for years, so now to have him onboard as an official memeber of the Penguin family is great. I'm looking forward to working with him to build the group to achieve its vast potential,' adds Penguin Media Solutions MD, Charlie Langridge.