The Arbane Groupe has recruited Christophe Palluat de Besset as Sales Director for France. He will work to 'create new sales dynamics within the company and develop commercial activity with the APG and Active Audio brands' – both part of the Group. More than 25 years' expertise in the A/V industry has seen Palluat work with both audio manufacturers and distributors, notably Active Audio. 'I worked in a number of roles before founding pro-audio distribution company Perfect Sound in 2009,' he explains. 'At the time, Active Audio's commercial distribution in France was given exclusively to Perfect Sound, so I know Active Audio very well.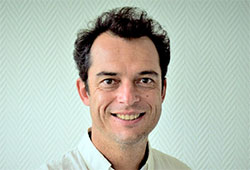 'I spent 11 years working for Perfect Sound as CEO, and came to know and respect the APG and Active Audio brands beyond their reputations,' he continues. 'When both brands announced their strategic partnership in 2016, I thought it was the perfect partnership. APG's product lines are excellent and Active Audio is known as manufacturer of the world's largest range of column speakers. My experience tells me that both product lines will perform extremely well in the installation markets for A/V integrators.'
Palluat's immediate goal is to present Arbane Groupe's audio ranges and services to A/V integrators across France, and continue to grow the company base and reputation. 'APG benefits from a fantastic reputation with technicians in the theatre and arts, and our goal is to educate the wider market to the fact that the products are not restricted to technicians and sound experts. The products are actually very accessible and have been designed to be easy to use with exceptional performance,' he says.
'Through creating Arbane Groupe, the brands have seized the opportunity to use the synergies of both brands to provide customers with access to complete ranges of high-quality speakers and a sales and projection support team which can offer a very high level of expertise.
'There's still a lot to do to develop the sales capacity and there are some fantastic new products to come this year,' he adds. 'The company has a true history, great savoir-faire, technicality and above all, a real proximity to its partners and customers. It's very stimulating to be part of it.'
'We're really pleased to have Palluat onboard with us after working with him extensively in the past,' says Arbane Groupe CEO, Régis Cazin. 'His expertise and approach to sales will be a great asset to us, as it was then, in growing our network across France.'
More: www.arbane-groupe.com