Sound reinforcement systems specialist Nexo has named Ginny Goudy as its International Marketing Director.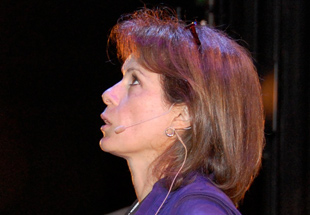 Having acted as the company's PR and communications consultant since 1997, she will now work to develop Nexo's marketing strategy across its international markets, and 'enrich client relations, communications and customer support'.
During her career as an independent press agent, Goudy has worked with a succession of memorable figures and on key events. Since her first PR appointment to Rupert Neve, she says that she has 'witnessed the rise (and fall) of the recording industry'. She played a part in the arrival of digital audio technology and the launches of pioneering products, including the Neve Capricorn console and Yamaha's ProMix01 and 02R mixers. Goudy has also shaped many stories within the rise (and rise) of the sound reinforcement industry, consulting for leading manufacturers, including Bose, JBL, Electro-Voice, Martin Audio and Turbosound.
'We are delighted to have persuaded Ginny to join us in Paris: she is a distinctive figure with a distinctive perspective on our business,' says Nexo Chairman and CEO, Keisuke Kobayashi. 'SR customers today are not only looking for good products, they are looking for a partner that understands their market and their aspirations. With her extensive industry contacts and marketing communications experience, Ginny will play a key role in helping Nexo to become exactly that kind of partner.'
More: www.nexo.fr