Scott Gellner has joined Symetrix as Product Development Program Manager, charged with 'guiding the development and implementation of new programme initiatives working with both programme and project teams'.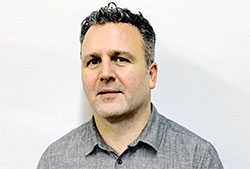 Gellner joins Symetrix with more than 20 years' Project Management and Product Development experience in managing complex projects with cross-functional teams, including four years as a programme manager for Loud Technologies where he helped develop more than 30 new products. He holds a bachelor's degree in engineering from Gonzaga University and an MBA-Technology degree from the University of Washington.
'Bringing Scott into the team is exciting for a number of reasons,' explains Symetrix owner and CEO, Mark Graham. 'Adding his skillset is an important part of our focus on growth and expanding innovative new product introductions.'
Gellner's primary objectives in the role include strategising and implementing major programme initiatives and overseeing multiple project teams: 'I'm looking forward to developing programmes that support Symetrix's strategic direction as well as creating and managing long term goals to optimise productivity and nurture programme success from inception to completion,' he says.
More: www.symetrix.co