Guitar Center has appointed Paul Gimenez as Director of Diversity, Inclusion & Belonging.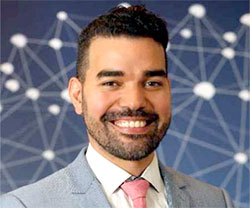 The appointment follows a months-long search following the company's executive team's commitment to improve its diversity and inclusion efforts, both internal and external within the musical instrument industry.
In his new role, Gimenez will partner with key stakeholders across the Guitar Center enterprise to design, develop and lead the company's Diversity & Inclusion initiative and related programmes. He will also provide strategic advice and counsel to the organisation's senior leadership on diversity-related issues.
'Paul brings a wealth of knowledge and proven experience in developing and executing strategies that drive diversity, equity and inclusion across an ever-evolving landscape,' says Guitar Center President & CEO, Ron Japinga. 'While evaluating the course of action for the position, we discovered that it is just as important for Guitar Center to be a place of belonging for all as it is a workplace that strives to promote and practice diversity and inclusivity. As such, "belonging" was added to the responsibilities of the position and will be another vital component of our diversity and inclusion mission. On behalf of the Management Committee, we are ready to work alongside Paul to launch diversity, inclusion and belonging initiatives that support a positive workspace and workplace for all.'
Gimenez has previously worked as Director at New York-based firm Mentora Labs, and as Research & Solutions Consultant at NeuroLeadership Institute, also based in NYC. Additionally, in 2016, he was co-founder and director of 100 for All, non-profit charitable organisation dedicated to addressing the global water crisis. He also has experience as a suicide helpline volunteer, activist and social worker.
More: www.guitarcenter.com