Alwyn Wong has joined Symetrix as Regional Sales Manager for the Asia-Pacific region.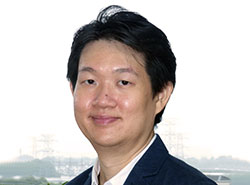 Wong comes to Symetrix with more than 20 years' experience in the professional audio industry. He was first introduced to audio DSP while working on a system installation for the Petronas Twin Towers in Kuala Lumpur in 1998. He later spent six years at Harman Professional as a Technical Sales Engineer, and then as a Senior Application Engineer. Most recently, he served at Peavey Commercial Audio, where he was the Technical Manager overseeing the APAC territory.
Wong has a diploma in Audio Engineering from the SAE in Malaysia and a Bachelor of Arts degree in Music Production from Southern Cross University in Sydney, Australia.
'It is my honor to work for one of the top Audio DSP brands where I can use my expertise in network audio,' Wong says. 'With my ample experience in the Asia-Pacific market, I feel confident that we can navigate the audio-visual landscape and produce favourable outcomes.'
In his new position, Wong will oversee the daily and long-term sales operations and performance of Symetrix distributors in Asia-Pacific, and provide expertise and consultation on operations, sales performance, and growth strategies for authorised re-sellers, distributors and A/V consultants.
'The SymFamily is thrilled to welcome Alwyn Wong to the team to represent Symetrix and to serve our partners across Asia-Pacific,' says International Sales & Operations Manager, Tylene Robinson. 'We look forward to the growth and development he will enable and drive in this territory. Alwyn has many years of experience working with top manufacturers in the Pro-Audio industry. His unique qualifications, attitude, and energy make him a great addition to the family.'
More: www.symetrix.co