The Bob Moog Foundation has announced a newly formed Board of Advisors comprising leading figures from diverse backgrounds including education, music, and music technology.
The board will provide the Foundation with their varied expertise and experience, in order to advance the organisation'seducational, historical preservation and museum projects.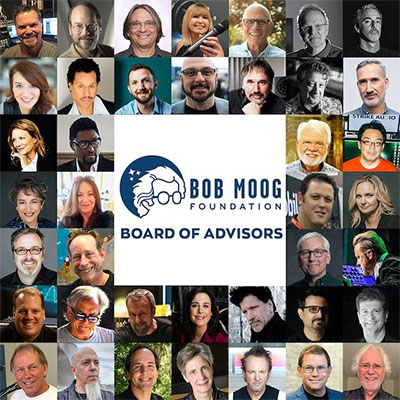 The Bob Moog Foundation Board of Advisors is comprised of: Rick Allen (sound designer), Craig Anderton (President, Midi Manufacturers Association), Athan Billias (Treasurer/Board of Directors, The Midi Manufacturers Association, Marketing Technology Strategy Manager, Yamaha Corporation of America), Dawn Birr (Manager, Channel Development, Pro Audio, Sennheiser), Michael Boddicker (musician, producer, founder, Synthplex), Joe Castronovo (President, Korg USA, Inc), Tommy Coster, Jr, Michelle Darling (Assistant Chair, Electronic Production and Design, Berklee College of Music), Larry Dunn (musician, producer, former keyboardist for Earth Wind & Fire, Mark Ethier (CEO and co-founder, Izotope) Stephen Fortner (Senior Editor and Associate Publisher, Music Player Network, Proprietor, Fortner Media), Peter Gorges (co-founder, UJAM Instruments), Dave Gross (Helldog Music), Daniel Haver (CEO and co-founder of Native Instruments), Bonnie Hayes (Chair of Songwriting, Berklee College of Music), Morris Hayes (musician), Greg Hockman (COO, GLS Creative Group), Hiro Iida (Head Electronic Music Designer/Strange Cranium Productions) , Gigi Johnson (President, Maremel Institute; Faculty, UCLA Herb Alpert School of Music; President, Rethink Next), Sandra Jordan (Principal, Sandra Kilpatrick Jordan Consulting), Gary Kerzner (MD, IK Multimedia US), Tawnia Knox (8Dio Productions, Co-Creator, MUSE), Mike Martin (Casio America, Inc), Dominic Milano (Principal at DM&C), Ernst Nathorst-Boos (founder and former CEO Reason Studios/Propellerhead), Erik Norlander (artist), Eric Persing (founder/President of Spectrasonics), Steve Porcaro (musician), Francis Preve (Principal, Symplesound/Special Advisor: Music Technology, SXSW), Heather Rafter (attorney), Gino Robair (former Editor-in-Chief of Electronic Musician and Keyboard magazines), Jeff Rona (composer), David Rosenthal (Musical Director and keyboardist for Billy Joel), Dave Rossum (Chief Wizard at Rossum Electro-Music), Jordan Rudess (artist), Marcus Ryle (founder and Chief Strategist of WRiiG), Mary Simoni (Dean, School of the Humanities, Arts, and Social Sciences at Rensselaer Polytechnic Institute), CJ Vanston (producer, film composer, keyboardist and songwriter), Lee Whitmore (Executive Director, Grammy Music Coalition), and Geary Yelton (Editor, Synth and Software).
'This incredible group of accomplished creative leaders have all agreed to help the Foundation promote and carry on the legacy of Dr Robert A. Moog,' says President of the Board David Mash. 'We look forward to their input, assistance, and creative ideas as we move forward. We couldn't be more excited or grateful for their engagement and support of our mission.'