Solid State Logic has promoted Marc DeGeorge from the position of US Sales & Marketing Manager, Music Products to National Sales Manager, Audio Creation Products.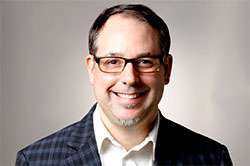 DeGeorge will be based at SSL's New York office and c continue to report to Senior Vice President, Phil Wagner.
'Marc has been a key part of our sales team for almost a decade, and in his new role he will help extend our success into adjacent markets – particularly for our products such as SiX and our new interfaces,' Wagner comments. 'Through our relationship with Audiotonix, we have been able to substantially increase our manufacturing capacity while retaining the quality that SSL is known for. In this newly created position, Marc will be instrumental in helping us reach a broader set of consumers.'
DeGeorge joined SSL in 2011 and has been responsible for managing the company's independent dealer network, as well as cultivating the company's console sales – primarily to the North American professional studio market. Throughout his tenure with SSL, DeGeorge has also played an integral role in helping generate interest among the end-user community through sales and marketing, as well as through educational initiatives.
'Our customers span a wide range of vertical markets and applications,' DeGeorge says. 'This includes the professional studios, broadcast and live markets, as well aspirational users and hobbyists. We want to ensure that SSL is able to provide the best possible tools for each of these customers, no matter what their application is and which audio path they want to pursue.'
'Our SiX and Fusion products present a very compelling value proposition to the live audio and broadcast markets, including podcasting,' he continued. 'A significant part of my new role will be educating both new and existing customers on these and other products, so they can be more successful.'
More: www.solidstatelogic.com