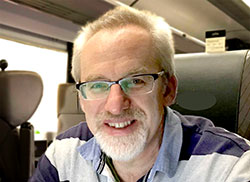 Greg Barker has become Vice President of Publishing at Singdaptive, a new multi-instructor online learning platform for singer-musicians.
Previously, Barker worked with TC-Helicon and TC-Electronic as a Commissioning Editor and strategic content developer, running VoiceCouncil.com and numerous other online publications. He was also responsible, with Kathy Alexander, for editing the industry reference for gigging singers, The Ultimate Guide to Singing – now in its third edition.
'As musicians are learning their craft increasingly online, we feel it's important and necessary to bring together the best resources in one location so that musicians don't have to waste valuable learning time searching for the best resources,' says CEO Kevin Alexander. 'Greg's extensive experience in digital content creation make him perfect to help us design and craft content for today's singers.'
Barker will be a part of developing Singdaptive's interactive online learning, developing learning tools and content aimed at improving the practice and performance skills of singers in all genres.
'I'm so happy to be contributing to this cutting-edge initiative in online education,' he says. 'Increasingly, musicians are not taking several years away from their performing to attend an educational institution – they are learning as they are doing. Singdaptive is there to meet them.'
More: www.singdaptive.com