Audio Media Research has appointed Will Pirkle as Chief Science Officer.
Originally founded by Hartley Peavey as an R&D branch of Peavey Electronics, Audio Media Research (AMR) is now a standalone focusing on advanced audio and music technologies and product development.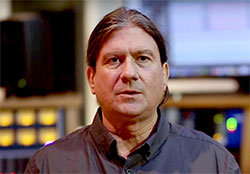 Pirkle's arrival brings a relationship with the University of Miami that will give AMR access to the graduate research and thesis work in the UM program, and a pipeline of music engineering graduates. In addition, UM students gain a relationship with an advanced audio and music technology company, allowing them to gain insights into product design and development, as well as the potential for combined graduate research, intellectual property and trademark development.
In addition to authoring books on plug-in development, papers on audio signal processing and guiding graduate research, Pirkle brings 30 years' experience in audio hardware and software research and development to AMR's marketing and engineering teams, having worked in the professional audio industry at companies including National Semiconductor Corp, Korg R&D and XM Radio. He is an Associate Professor and Music Engineering Program Director at the Frost School of Music at the University of Miami.
'I am fortunate to have the opportunity to continue my role as Program Director and graduate thesis adviser at the University of Miami's Music Engineering Program, thereby forming a strategic alliance between Audio Media Research and the graduate music engineering program at Frost.' Pirkle says, 'I have long been looking for a role that would combine all my experiences and talents. I am happy to announce that search is now over.'
'Will Pirkle and AMR share an exciting vision for the future of audio technology,' says AMR CTO, Michael Ljunggren. 'In partnership with the University of Miami, we are committed to pushing the boundaries of innovation and providing cutting-edge tools to help people create music.'
'It is rare to find university academics who also have decades of industry experience in product research, design and development,' says AMR COO, Scott Mire. 'In addition, he holds core competencies in both analogue and digital audio hardware and software design. We look forward to a long and productive relationship with Mr. Pirkle and his colleagues at the University of Miami.'