Martin Audio has added Will Harris to its US team as Product Support Engineer. Based in Las Vegas, he will ensure that Martin Audio's technical support will now cover US customers coast to coast.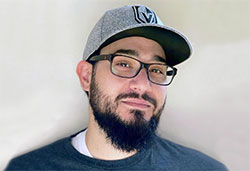 As the latest addition to the manufacturer's Product Support Group, Harris will support the Martin Audio team and resellers with demos, system design and implementation. He will also commission installations and provide technical support to customers.
Harris' experience extends from musician on stage to live sound engineer, as well as providing technical support for another high-profile manufacturer. 'Will is not only an experienced live sound engineer, but has experience working for a prominent manufacturer designing and supporting systems,' says Lee Stein, VP of Sales for North America. 'Our rapid growth has required us to add additional staff to support our sales and our customers appropriately. Will has very strong technical expertise, practical experience and has held this position with another manufacturer. The fact that he's located in Las Vegas is another plus as it expands our technical support presence across the country.'
'I joined Martin Audio to be part of their great history in music,' adds Harris. 'Martin Audio has always put the musical experience first and that shows in every product we make. It doesn't matter if you're listening to a large-format concert touring rig like the iconic MLA or enjoying background music from an Adorn system at your neighbourhood pub, it is evident that pure enjoyment of music is at the core.
'I fell in love with Martin Audio when I was still a performing musician, and I first experienced a Martin Audio stage monitor,' he recalls. 'The form factor was so compact, and I loved how I always felt like I was in the 'sweet spot'. Moreover, the sound was so smooth and musical. I quickly noticed other stage monitors were often voiced to help cut through a noisy stage, but not these wedges. They sounded smooth, putting the vocal out front while still providing a warm responsive low end.'
Looking to his new role, Harris is excited to become part of the Martin Audio family. 'I am most looking forward to being part of such a great family of products and can't wait to see what the future holds,' he says. 'The idea of working with the great talent from different backgrounds to help develop the best listening experience possible is my true driving factor.'
More: https://martin-audio.com