US installation and architectural loudspeaker company Sonance has appointed John Dodson as representative for its Pro Series and 100V product lines within the Middle East and Sub-Saharan Africa territories.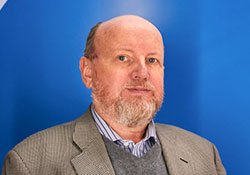 Dodson assumes direct responsibility for the channel partners, consultant relationships and authorised integrators in the territory. He represents a strong addition to the Sonance commercial operation, with extensive experience managing a wide variety of channel strategies.
Having has worked in the audiovisual field for more than 35 years, Dodson has held positions in retail and distribution with numerous well-established commercial manufacturers. With this appointment, he is responsible for 'cultivating and discovering' new commercial audiovisual business relationships.
In addition to the Sonance line of commercial audio solutions, Dodson's product portfolio includes microphones, amplifiers, processors, cables, connectors and technical furniture. These products are commonly installed in commercial applications such as hotels, leisure, food and beverage, conference facilities, places of worship, or transportation and sports facilities.
'I am delighted to add the Sonance commercial products to my family of quality brands,' Dodson says. 'These loudspeakers are a great fit with my existing lines, and I am looking forward to delivering them to my customers and friends around the region.
'Sonance certainly dispels the perception that only low impedance loudspeakers can provide quality sound. The speakers offer both low and high impedance connectivity, and sound quality isn't the deciding factor when selecting which type of amplifier to use.'
'Having known John for years , I was only too aware of his extensive knowledge and network of customers throughout the Middle East market,' says Sonance International Sales Director Adrian Ickeringill, who will manage Dodson from a product and strategy standpoint. 'We are delighted to have John onboard, providing much needed focus in the Commercial market for our 100V line Pro Series, IS4C invisible series and Landscape and Omni series outdoor products.'
Ickeringill and the Sonance commercial group will work with Dodson and the ProCon AV team to support the installation network in Middle East & Africa with project design, demonstration and support.
More: http://sonance.com